The month of October is full of parties and snacks, but unfortunately, the vast majority of these holiday season treats are storebought and full of unhealthy ingredients like processed sugar. Now that I'm a natural mama, I don't want to be feeding my little guy all the same junk I grew up on. Here are some healthy fall snacks that aren't just healthy, but they taste great and are sure to be a hit with kids!
1. Clementine pumpkins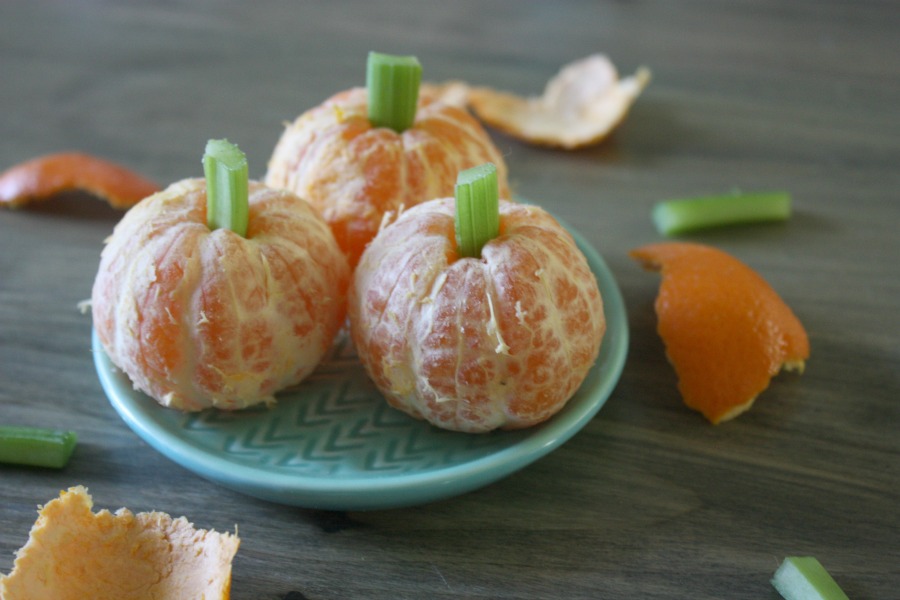 Ingredients:
clementine oranges, peeled
1 stalk of celery
Directions:
Cut the celery stalk into "pumpkin stems." Cut a 1-inch piece of celery from the stalk, and slice this lengthwise into thin strips. Place each "stem" into the center of the clementine.
2. Candy corn parfait
Ingredients:
1/2 cup pineapple chunks
1/2 cup orange slices, cut into chunks
1/4 cup unsweetened yogurt
1 Tbsp raw honey
1/2 tsp vanilla extract
Directions:
In a clear glass tumbler, layer the pineapple chunks and then the orange chunks.
Mix the yogurt, vanilla extract and honey thoroughly together.
Spoon the yogurt mixture on top of the fruit.
3. Carroty pumpkin hummus
Ingredients:
Directions:
Cut the carrots into 1/2 inch thick slices. Place a small piece of parsley on top of the round edge of the carrot for the pumpkin stem. Use a toothpick to secure the parsley to the carrot.
Fill a bowl full of your favorite hummus dip and place the carrot pumpkins in it for easy dipping.
4. Hootin' owl crackers
Ingredients:
Apple slices
Sliced almonds
whole almonds
raisins
whole wheat bread slices
round snack crackers – Like this
cream cheese, softened
Directions:
Cut the bread slices into 4 1/2- 5 in diameter circles using a large cookie cutter or with a knife. If using a knife, you can create a template out of cardboard to make the slices more uniform.
Cover the bread with a layer of cream cheese.
Use the snack cracker with a raisin on top for each of the owl's eyes. Place a whole almond in between the two crackers for the owl's nose.
Slide two almond slices directly under the owl's "eyes" for ears.
Use 3 almond slices under each owl eye to create the owl's wings. There will be a set of 3 almond slices on both sides of the owl with a cream cheese gap in between.
5. Pumpkin spice granola
Crunch into some healthy pumpkin granola for a yummy fall treat. This is great with some raw milk or yogurt for breakfast or sprinkled on top of a candy cane parfait. Get the recipe here.
6. Baked apple chips
Ingredients:
Apples
cinnamon powder
dehydrator or oven
parchment paper or silpat liner
Directions:
Core and slice the apples. Lightly sprinkle with cinnamon powder.
Arrange slices on your dehydrator tray and dry at 115 until the apples are completely dry, but not hard and brittle. 115 degrees will make this a "raw" food recipe.
If using the oven, set to the lowest temperature and arrange apple slices on baking sheets lined with parchment paper or a silpat liner. You can leave the oven door slightly cracked open to reduce the oven temp while baking. Bake until the apples are dry, but not hard.
7. Savory popcorn
Ingredients:
8 cups non-gmo, popped popcorn
1 Tbsp nutritional yeast
1 tsp powdered thyme
2 tsps finely ground rosemary
2 tsps sea salt
2 Tbsp pastured butter or refined coconut oil, melted
Directions:
Toss all ingredients together until thoroughly coated. Add more salt to taste if desired.
8. Apple pie popcorn
Ingredients:
8 cups, non-gmo, popped popcorn
1/2 cup dried apple pieces
1/2 cup finely chopped pecans,
2 Tbsps grass-fed butter or coconut oil, melted
1 tsp ground cinnamon
1/2 tsp ground allspice
1 Tbsp raw honey
Directions:
Combine the butter, honey and spices together and stir until thoroughly mixed.
Put the popcorn, apples and pecans into a large bowl.
Cover the popcorn mixture with the butter mixture and toss to combine.
This recipe was inspired by this one.
9. Candy corn fruit bites
Ingredients:
pineapple chunks
1 orange
1 apple
toothpicks
Directions:
Peel the orange and separate it into slices. Peel and core the apple and cut it into 8 slices.
Now cut the orange and apple slice into triangle shaped chunks. You want the pineapple chunks to be the largest, the orange chunks to be medium sized and the apple chunks to be the smallest so that when they're layered together it resembles a triangular candy corn shape.
Slide the pineapple onto the toothpick first, followed by the orange and then the apple.
10. Applesauce fruit leather
Ingredients:
2 cups Applesauce
2 tsp Cinnamon (optional)
1/2 tsp Nutmeg (optional
parchment paper or silpat liner
coconut oil
Directions:
Stir the spices into the applesauce if using.
Line a dehydrator tray or baking sheet with the parchment paper or silpat liner. If using parchment paper, lightly grease it with some coconut oil.
Pour the applesauce mixture onto the lined tray and tilt the tray to spread the mixture evenly. You want it to be about 1/4 inch thick.
Dehydrate at 115 until no longer sticky, but still pliable.
If using the oven, set the oven to the lowest temperature and bake until the applesauce is no longer sticky, but still pliable.
Let cool completely before cutting into strips.
What kinds of healthy snacks do your kids love during the fall? Share with me in the comment section below!