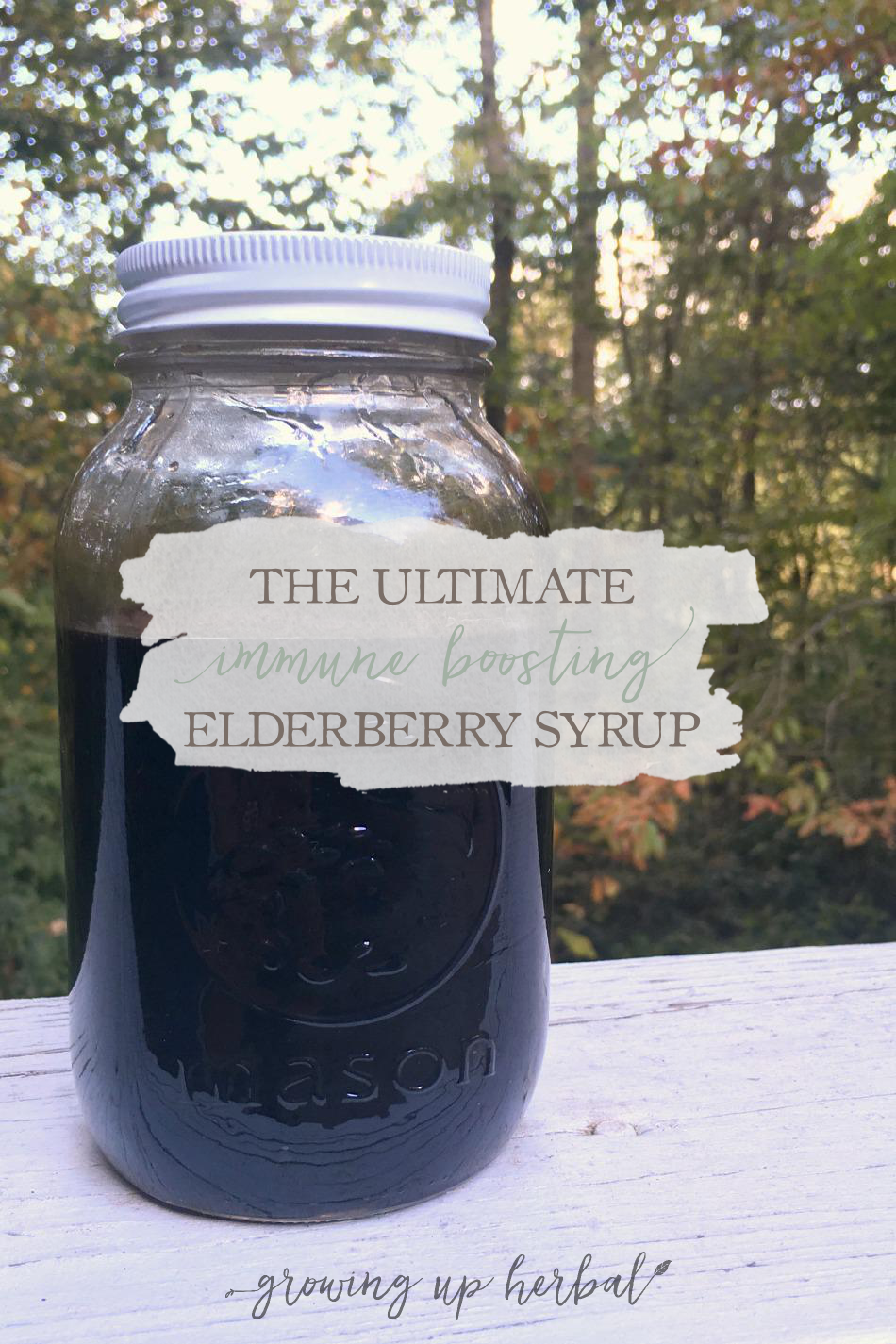 Elderberry syrup is a staple in most natural homes as fall approaches. This is because elderberries are known to stimulate the immune system and help the body better defend itself against germs it comes into contact with. It's great for all ages, and it's definitely not one of those preparations you have to force your child to take!
Elderberry syrup is a traditional herbal preparation that has been around a long time, and there are many different versions of it. Today, I'd like to share my version with you. I call it "The ULTIMATE Immune Boosting Elderberry Syrup" because it's much more than the standard syrup you'll find in many books.
Below, I'll tell you how this recipe came to be as well as give you the recipe and some brief info on why this syrup is so great for cold and flu season!
How "The Ultimate Immune Boosting Elderberry Syrup" Came To Be
As cold and flu season come around, it seems there are always a bunch of different herbal preparations you're supposed to stock up on and take each day to stimulate the immune system. It can sometimes feel a bit overwhelming when you think about all you need to do. So instead, I like to keep things simple. I don't like having ten different supplements to take every day because I know I'll never remember them all.
When I think of getting ready for the upcoming cold and flu season, my first thought goes to my family's diet. I think about foods that need cut out and supplements that need to be added in. My goal here is to use nourishing foods that build our bodies up so they are functioning properly and are not bogged down and susceptible to germs.
Next, I look towards herbs and the nutrition and beneficial properties I can get from them. Several preparations immediately come to mind, such as elderberry syrup, echinacea root tincture, and vitamin C supplements for their immune-supportive properties. I also tend to make more herb balls or herbal electuaries using my adaptogenic herb blend as it works well to benefit the endocrine and immune systems as well. We also try to incorporate drinking more nourishing herbal teas which are full of vitamins and minerals as well.
Unfortunately, when it comes to herbal preparations, that's a lot of things to make and have on hand, so I decided to combine the first three preparations together to make a super syrup that would give me and my family the joint benefits of each remedy all in one. This combo not only gives us all the immune-stimulating benefits we need, but it also saves time and effort. I'll be talking more about the specific health benefits of the herbs used in this syrup at the end of the post, but first, the recipe!
The Ultimate Immune Boosting Elderberry Syrup
Ingredients:
Directions:
Pour water in a saucepan and heat on high until water comes to a full boil.
When water comes to a boil, turn the heat down until the water is simmering (steaming, not boiling) and add elderberries, ginger, echinacea, cinnamon, and cloves to the water. Mix well and allow the mixture to simmer for 30-45 minutes or until water is reduced in half (2 cups).
Remove from heat and allow to cool for 15-20 minutes before adding bilberries, rosehips, and hibiscus. Steep, covered, for 15-20 additional minutes (the longer, the better).
Strain herbs using a mesh strainer. Press the herb mixture into the strainer using a wooden spoon to extract as much juice from the herbs as possible. Allow the liquid to cool to room temperature.
Measure honey and add it to your liquid. Mix well.
Bottle, label, and store in the refrigerator.
Dosage:
High chance of being exposed to a viral illness? Adults can take 1 tablespoon daily, and children take 1-2 teaspoons daily.
Have a viral illness? Adults take 1 teaspoon every 2 hours while children take 1/2 teaspoon every 2 hours for the duration of illness.
Shelf Life:
I have personally found this syrup to last around 4-6 weeks refrigerated when 1 cup of honey is used, giving the syrup a 33% sugar content. If you want your syrup to last longer (closer to 3-4 months), 2 cups of honey, giving the syrup a 50% sugar content, will be a better option for you. You can also add in a bit of elderberry, echinacea, or ginger tincture to this as well as the alcohol will help to further preserve the syrup. Herbalist James Green recomments adding 1 part alcohol to 3 parts syrup for effective preservation.
I've also learned that, when it comes to using elderberry syrup, I rarely have to worry about the syrup going bad as we use it up quickly in our home, but this is good info to know if you wanna keep a batch in the fridge in case you need it during warmer months.
What's So Great About This Syrup?
Like I said earlier, elderberry syrup has been a cold and flu remedy for ages, but did you know that there's actually scientific research out there to back up those claims?
Elderberries contain phytochemicals that give them the ability to bind to viruses in order to prevent them from invading cells and replicating, and they have an affinity for respiratory viruses like influenza. Plus, they taste great, especially when added to flavorful herbs like clove, cinnamon, and ginger. These herbs have their own antimicrobial properties due to their high volatile oil content and are warming herbs that work to stimulate digestion and circulation. This helps them act as catalysts to the immune-stimulating herbs in this preparation.
Another great thing about elderberry is that it's especially effective when used in combination with echinacea. Echinacea is one of the most researched plant in the modern world, and it has been shown in many studies to stimulate the immune system and to fight viruses and bacteria. Doctor James Duke's The Green Pharmacy Herbal Handbook (2000) states that echinacea contains inulin which improves white blood cell speed so it can get to invaders and destroy them before they spread further. It also signals the body to release interferon, and it contains chemicals (caffeic acid, cichoric acid, and echinacin) that have been shown to kill viruses as interferon does. It also increases the number of white blood cells in the body.
Finally, elderberry, as well as bilberry, rosehips, and hibiscus, are all herbs that contain vitamin C. Rosehips are thought to contain more vitamin C than any other herb! Vitamin C is a necessary nutrient when it comes to stimulating the immune system and combating viral and bacterial illnesses.
So now, I hope you can see why I personally think this is the ULTIMATE Immune Boosting Elderberry Syrup! It's packed full of healthy, healing herbs!
Keep track of this recipe by pinning any of these images to your Pinterest boards and sharing this post on your Facebook page!
Oh, and don't forget to make this recipe for your family then come back here and tell me what you thought of it in the comments below. Remember, I'm here to help you learn to use herbs with your little ones!
REFERENCES:
Herbal Recipes for Vibrant Health – Rosemary Gladstar
The Green Pharmacy Herbal Handbook – James A. Duke, PhD
The Herbal Medicine-Maker's Handbook – James Green