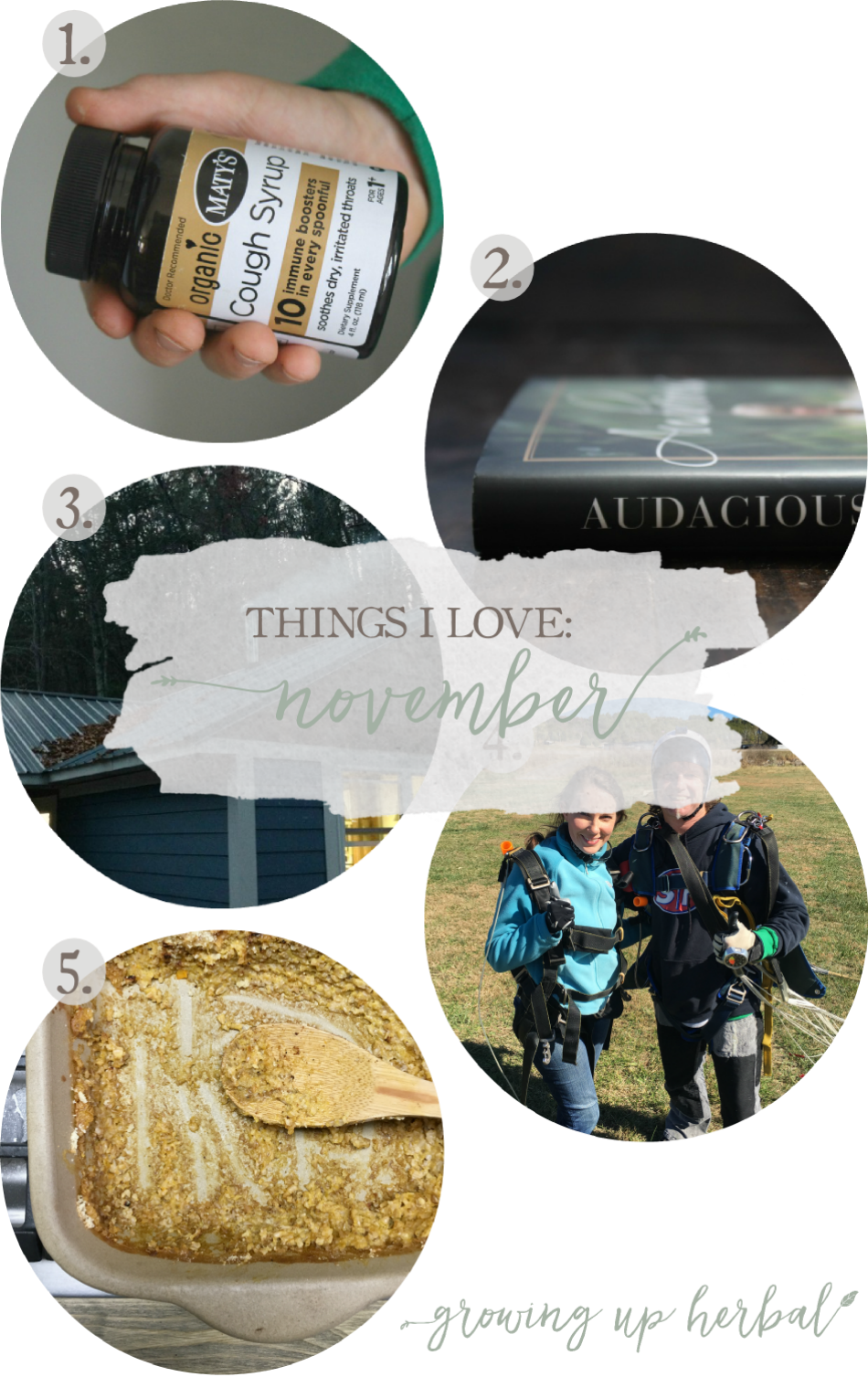 Hey, mama!
If you live here in the US, I hope you and your sweet family had a Happy Thanksgiving! We certainly did! Thanksgiving always ends up giving both Dean and I a good bit of time off work (and the kids get a break from school). As always, it was a fun, busy time. We celebrated by eating meals with both sides of our family (my side and Dean's side), we visited with friends and family, and we spent quality time with each other as well.
And if you're not in the US and didn't celebrate Thanksgiving this week, then I hope you had a great month none-the-less! I'm thankful for you no matter where you live!
Seeing how it's the end of the month, I've got 5 of my favorite things to share with you from November. I hope you enjoy reading these posts. I know I sure love giving you these little glimpses into my life, and above all, I hope it's helpful to you in some way.
I was just chatting on the phone with my assistant, Faith, the other day, and I was telling her that one of my goals with Growing Up Herbal is to let you see how I'm really living life naturally… including all the flaws, failures, and frustrations. I told her that I hoped I didn't come across as having a perfect natural life (because there is no such thing… no matter how ideal someone's Instagram feed looks) and that you knew I was right there, in the trenches, with you.
As always, thanks for letting me share bits of life with you. Without you, Growing Up Herbal would not be the same.
xo, Meagan
Favorite Herbal Product
I did not expect to get sick so soon in the year. I just told you how I was taking some new supplements to help my immune system because I wanted to see how I did staying well during the winter months. Well, let's talk about failure #1 today. I keep forgetting to take them, and that means they're not going to do me any good!
Do you have that problem too? Forgetting to take your supplements?
This month, the kids picked up a little cold virus, and they gave it to me. Well, Ezrah gave it to me because he likes to give me lots of kisses, even when boogies are involved. Sweet boy. Of course, I caught their cold, and I've had a seriously annoying cough for about a week now. It's a pitiful sounding cough, and my throat feels dry and scratchy. So, seeing how the kids gave me their cough, I decided to steal their cough syrup to help ease it a bit.
Thankfully, during the day, my cough is pretty mild, but it always seems to flair up in the middle of the night. It keeps me up for 20 minutes or so, and it always wakes my husband up. Once the coughing starts, I get up to get some water and a dose or two of cough syrup. After a bit, the coughing settles down, and I'm ready to go back to bed.
Favorite Book
A friend from church gave me the book Audacious by Beth Moore a couple months ago, but seeing how I have no time to read books (other than the boys books for school), it sat to collect dust. I honestly did intend to read it… eventually. I just couldn't seem to find the time.
Then, Sunday came. Sundays are normally family days, but we were all (my extended family, that is) doing different things this Sunday so we didn't get together after church. Instead, I went home to take a nap with Ezrah while the bigger boys played or watched TV, and Dean went to the shop to work on something. After a 30 minute nap, I woke up feeling refreshed. Unfortunately, Ezrah woke up too feeling… er… not so refreshed. In my effort to get him to go back to sleep and finish his nap, I grabbed this book and snuggled with my little man till he fell back asleep.
I read the first chapter, and was immediately hooked so I kept reading. The second chapter made me cry (that dang Beth Moore) so I knew I had to keep on reading. I ended up reading the WHOLE book that night which is something I've never done before. I even skipped TV time with my man later that night to read!
In the end, I learned a lot about living the kind of life that I want. One that is meaningful. I'm convinced that if we all lived this way, our world would be a much better place.
And can I just say, I love me some Beth Moore. This woman doesn't claim to be perfect so I can totally relate to her. She teaches from the heart, and her love for women shines through! If you're ever looking for a good, in-depth bible study, her's are great!
Favorite Photo
Cold weather has settled in here in East Tennessee, and I love cold weather!
I look forward to fall because of all the colors, the meaningful family holidays, and the tasty comfort foods, but also because it means it's time for the wood stove to be fired up. In fact, one of my favorite things about living here on the mountain is that wood stove. There's nothing that makes our house more cozy that firing it up on cold evenings. I love hearing the popping and cracking of the fire and the faint smell of smoke it gives off.
This year, Judah is in charge of starting all the fires. He's 8, and this is a responsibility that he's happy to accept. Isaiah (6) and Uriah (4) are in charge of bringing wood up and keeping it stocked on the porch. So far, they're taking their jobs seriously and doing a great job.
Favorite Memory
I've always been a little bit of a dare-devil. I tend to not be too scared of risky things, and I like adrenaline rushes. I'm sure, now that I'm older and have a family, I'm less likely to do many of the risky things I did when I was younger, but I still enjoy living life on the edge… when I can.
Three or four years ago, Dean and I were out to eat with his brothers and their wives, and we somehow got on the topic of skydiving. Our group was very split on who would and would not go, but my brother-in-law Preston and I were all for it. Last year, Dean and Krystal (Preston's wife) surprised us at Christmas with gift certificates to go skydiving!
We had planned to go together back in October, but then Isaiah broke his arm and had to have surgery. Thankfully, Krystal stepped up and went in my place. She was a bit nervous about going, but after all was said and done, she was glad she did it.
A few weeks later, we finally had a Saturday where we could make it happen. We drove two hours towards Knoxville, TN to Skydive Smokey Mountains, and I jumped tandum from 11,000 feet in the air. It was so much fun, and I got to mark something off my bucket list!!
I thought I'd be a little nervous about it. Not out of fear, but more out of not knowing what to expect. However, I wasn't nervous at all. Chuck explained everything really well and helped me to feel at ease, and the plane ride up was breath-taking! And of course, the jump was exhilerating.
It was so loud at first because you're falling so fast, but you have plenty of time to experience the feel of falling before the rip cord for the parachute is pulled at 8,000 feet. After that, we floated down and watched the plane I'd just jumped out of do some crazy tricks for the kiddos below. I got to steer (maybe it's called guide) the parachute through the air for a bit… spinning left then right, over and over. Finally, when we were at 3,000 feet, Chuck took over again and guided us to a safe landing.
It was a blast, and something I'd totally do again!
Favorite Food
Healthy breakfasts always seem like effort in my home.
At times, I simply want to buy cereal for my kids and let them make their own breakfast. Mostly because I'm lazy, and I don't want to spend 30 minutes making breakfast first thing in the morning. But then, my desire for healthy kids that aren't lazy in their eating habits kicks my butt into gear, and I go make them breakfast (or plan better and make healthy breakfasts in bulk).
This month, I came up with a yummy, holiday-inspired, make-ahead breakfast recipe that my kids loved and can be eaten several times throughout week. Can I share it with you below?
Pumpkin Pie Baked Oatmeal
Inspired by a breakfast recipe in Frugal Real Food Meal Plans
Ingredients:
2 cups steel cut oats (or old-fashioned rolled oats if you prefer)
2 tablespoons butter
1/2 teaspoon baking powder
1/4 teaspoon baking soda
1/4 teaspoon sea salt
1 teaspoon pumpkin pie spice
2 teaspoons vanilla
1 1/2 cup Greek yogurt
1 cup of pumpkin puree
2 eggs
1/3 cup maple syrup
Directions:
Preheat oven to 350 degrees.
Mix all ingredients in a large bowl and pour into a 9-inch greased casserole dish (I used this non-greased stoneware dish).
Cover with foil and bake for 20 minutes. Remove foil and bake for an additional 25 minutes.
Enjoy served warm with a little Greek yogurt and peaches on the side.
Store leftovers covered in the refrigerator.
Goals To Shoot For In December
As usual, I did not met all of my goals last month. I did get close though. That has to count for something, right?
I did not get around to ordering my 2009 photos so I'm still THAT far behind. I also did not get the new GUH site ready to go in December, but I am taking December off of writing new blog posts so I can focus 100% on the new site and getting it ready for you!
So, onto December goals.
This month I'd like to:
finalize the new GUH website and get it ready to go for January
plan out giveaways for website launch week
make handcrafted Christmas gifts for all the ladies in my family
make fresh pine garland to decorate our porch railing
switch out fall decor for winter decor
have a family movie night where we watch a Christmas movie and snack on holiday treats
have all my Christmas shopping done the week before Christmas (gifts wrapped too!)
go on a date with my man!
I hope you have had a lovely November, mama! As always, thank you for your support! I appreciate you so much!
Be sure to follow me on Instagram to see more glimpses into my everyday life!