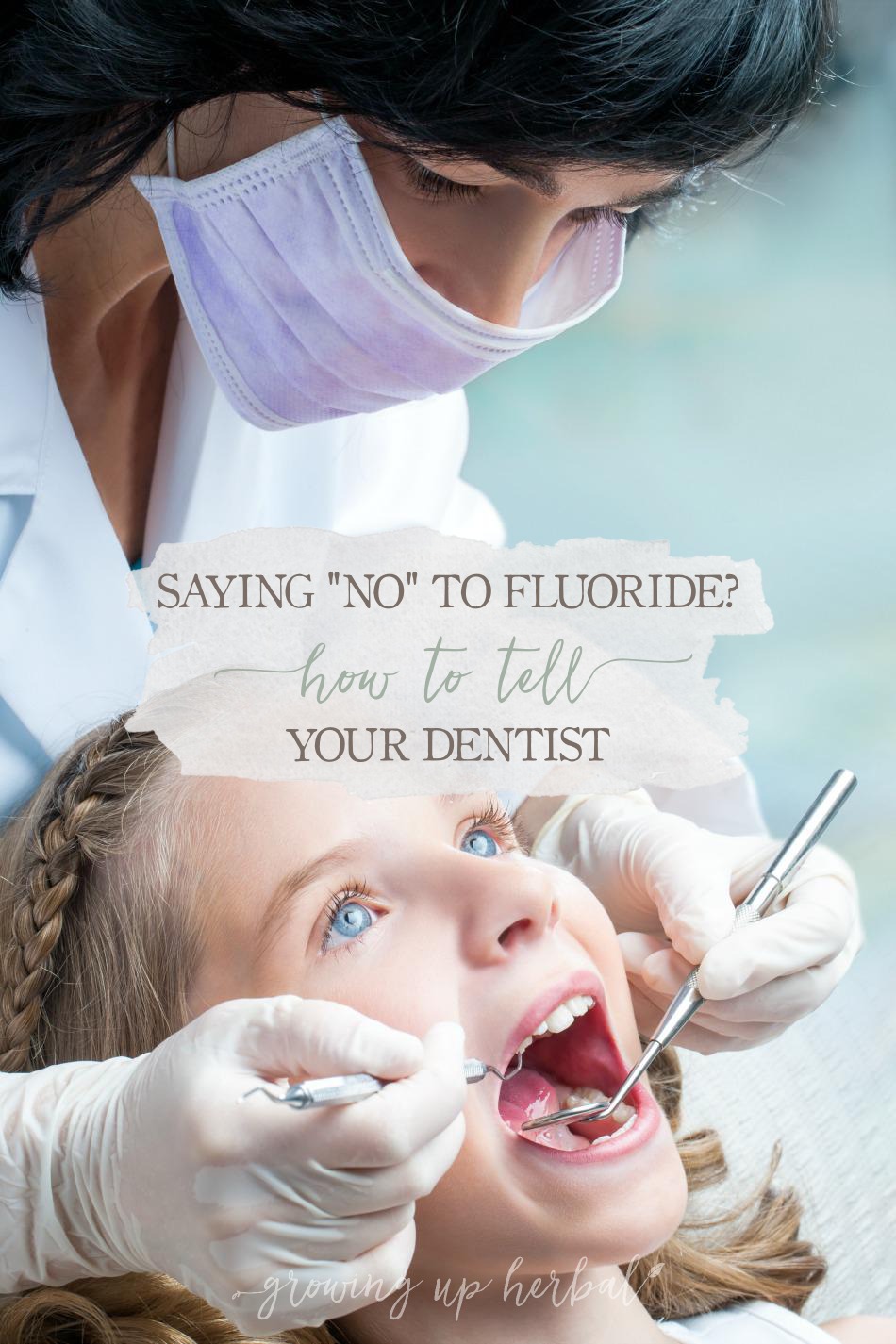 When you decide to take a stance on something people are going to want to know why… especially if your stance differs from the mainstream choice or is controversial.
This is especially true when you decide to opt out of using fluoride in your family, but how do you tell your dentist "no" to fluoride when they ask? How do you explain your decision to unsupportive family members even?
Today I'm going to quickly share 3 tips with you that will help you better explain your position on the issue of fluoride when asked.
Saying No To Fluoride? How To Tell Your Dentist In 3 Simple Steps
1. Know Your Reason: Why Or Why Not
The first thing you need to do when you go to tell your dentist "no" to fluoride is to be knowledgeable about your choice. Why are you doing or not doing it? What's the reasoning behind it?
You don't need to explain your reasoning down to the minutest detail as if you're defending your position, but you do need to know your stuff in case you're challenged. Having a clear, brief reason to share confidently will help tremendously.
2. Share Your Backup Plan
Most of the time, when you're planning on veering from the mainstream, people are going to want to know what you plan on doing if you're opting out of something – in this case fluoride – to keep your kids healthy and prevent whatever it is that can happen to them – dental decay and cavities.
By already knowing what you plan on doing and sharing that plan with whoever you're talking with, you're reinforcing the fact that you're not just following a silly movement, but you do understand your position on the subject. You've done your homework, and you're prepared. You realize that action needs to be taken and that you feel you're doing the best thing for your child's overall health.
3. Be Polite, Confident, And Firm
Authority. It's there for a reason. We all have authorities over us. They are there to lead and guide us… to help us. As a parent, we are our children's authority. Sometimes this means telling them what to do or not do, and sometimes it means to give them a choice to make.
In this case, a dentist is an authority figure. He or she has gone to school to learn all about the mouth and oral health, and they're experienced in many issues of caring for this area of our bodies. They are there to help us learn and to take care of a portion of our health for us.
But like a doctor, they're not solely in charge of this area for us. We are still in charge of our bodies, and ideally, we will work WITH our dentist to do what's best for us and our children. If you feel that your position is in the best interest of your child's health… if you're polite, confident, and unwavering… then chances are you're not going to see much resistance.
In Conclusion
Finally, from the comments I got on my Facebook page, not many people have had a negative experience with their dentists when it comes to choosing not to go with fluoride. I truly think that many dentists are looking into this issue and becoming more knowledgeable about it themselves instead of just following along with what the ADA tells them.
If you know your reasons and you share them in a kind and confident manner, chances are your dentist will respect your decision. Remember, their job is to participate with you in caring for your child's dental health. Just show them that you understand this issue, and you are doing other things to keep them healthy.
How do you tell others you've opted out of using fluoride on your kid's teeth? Share with me in the comments below!
Miss The Other Posts In This Series? Get Them Here: