I remember when I first found out that eucalyptus essential oil was a big no-no for kids under 6… the Eucalyptus globulus variety that is. I'd been using the stuff on my kids anytime they had a cold or were congested.
I'd gently diffuse it in their room. I'd add it to the steam vaporizer. I'd slather their little chests with vapor rub.
I didn't realize I was doing something that could have been potentially harmful to my kids. I mean, isn't eucalyptus and menthol the stuff they use in the vapor rub you buy in the store for your kids? Why yes, it is.
Once I realized that it could be dangerous I knew I needed to find a replacement for it, and fast. I use vapor rub quite often. In fact, it's probably one of the things in my medicine cabinet that gets the most use. Little colds, runny noses, and slight congestion are quite common in small children, and seeing how I'm surrounded by them at this season of my life, someone always needs some vapor rub.
So I began to search online for other natural options only to come up with vapor rubs that contained… you guessed it. Eucalyptus essential oil. Everything out there seemed to contain it or be designed for older kids. It's like I couldn't find anything for really young children.
I finally came across a DIY recipe for congestion for little ones, but it seemed like every time I needed it I had to run to the computer, look the recipe up, mix up two different blends to fit the age ranges in my home, and then make my vapor rub from them. Now don't get me wrong, I did it, and I used it. It was a great replacement for my standard eucalyptus vapor rub, but now I've found something even quicker and easier. Halleluyer! (Said in my best Madea voice.)
Today I'm going to share how I make a super easy kid-friendly vapor rub that is safe for kids ages 2 and up and the best part is you don't have to search for essential oil recipes or blend anything together. It's already done for you!
The Easiest Kid-Friendly Vapor Rub In The World
Makes 1 – 2-ounce twist top tube.
Ingredients:
Directions:
Place beeswax in a small saucepan over high heat to melt beeswax.
Once beeswax is melted, add olive oil, mix well, and turn heat off.
Pour oil/wax mixture into twist top tube.
Add 50 drops of essential oil to oil/wax mixture in your tube. Stir with a toothpick or skewer to mix oils together.
Let sit until salve hardens. Put the lid on, label, and store.
To Use:
Rub vapor rub into the chest and back or on the bottoms of the feet to aid in symptoms of a cough and congestion. You can also place a small amount of vapor rub under the nose to help with a stuffy nose.
So there you go. An easy-to-make, easy-to-use vapor rub that's safe for little kids. It's quick to make and convenient to grab and use when your kids are feeling under the weather.
Also, from my understanding, you can even use something like this on kids under two IF you use less of the essential oils in it. Like around 10 drops for this whole recipe.
Want even more herbal salve recipes? Check out my e-book, Herbal Ointments, Salves & Balms: The Ultimate How-To Guide! Not only will it tell you which of these products to use and why, but it will walk you through the steps of making them yourself! Plus, you'll learn how to source quality ingredients, how to keep your creations shelf-stable, and how to add "advanced" ingredients into them. Oh… and you'll get 5 exclusive recipes to help you get started making your own herbal ointments, salves, and balms right away! Learn more about it here!
Thanks for reading today's post, and be sure to pin it on your natural medicine cabinet board on Pinterest or share it with your natural mama friends on Facebook!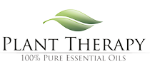 This post was underwritten by Plant Therapy. All opinions are mine. Plant Therapy offers 100%, pure, undiluted essential oils sourced from some of the top essential oil suppliers in the world. They have single oils and synergy blends as well as a line of synergy blends specific to children. Not only do they offer high-quality essential oils, but they also offer carrier oils, hydrosols, and other essential oil accessories to help you keep yourself and your home naturally healthy.