Do you have a child that isn't so keen on taking a bath and getting clean? Well if you do, how about giving them a chamomile tea bath instead of a regular bath?
I don't know many kids that hate baths. I mean baths are a time when most kids get to play and splash around in water no matter what the temperature is outside. But, if your kid isn't thrilled with the getting clean part of a bath, then why not skip the soap and try something a bit different. Something that will get them clean and be beneficial to their skin without the stinging or drying effects of typical soaps? Chamomile tea baths are a great easy way to clean your kid without the dramatic ending. Trust me… I know!
Chamomile: A Children's Herb
First off, chamomile is an excellent children's herb. Not only does it smell and taste great, but it doesn't have a toxic upper limit for children. The only thing that you'll want to be careful about if you decide to try a chamomile tea bath is whether your child is sensitive or allergic to it.
Chamomile is an herb that's a part of the Asteraceae family of plants. Ragweed is also a part of this family, and we all know that ragweed can cause minor to severe allergies. The biggest issue when it comes to chamomile is pollen. Thankfully, most chamomile is harvested before the pollen is released so that shouldn't be much of an issue, but that doesn't mean it's okay to not test for an allergic reaction to this plant.
In order to test your child's sensitivity to this herb, you have a couple of options. One, you can rub some chamomile on the underside of your child's wrist or on their stomach and watch for any redness or swelling. Or, you can make a strong chamomile tea and have your child take a couple of sips. If they're allergic to it you'll see typical reactions like a rash, stuffy nose or runny nose, itching, sneezing, swelling, etc. I have an entire post detailing how to test herbs for allergies right here.
After a few hours, if all seems well after testing them for any sensitivity to this herb, you can try making this chamomile tea bath. Not only will it help to clean their skin, but it will help them in a couple of other areas as well.
Chamomile is a natural relaxant that not only soothes away stress and irritability and can help your child have a good night's rest, but it's also a natural anti-inflammatory too. That in itself will soothe your child's skin, especially if they have itchy skin rashes or dry skin.
How To Make A Chamomile Tea Bath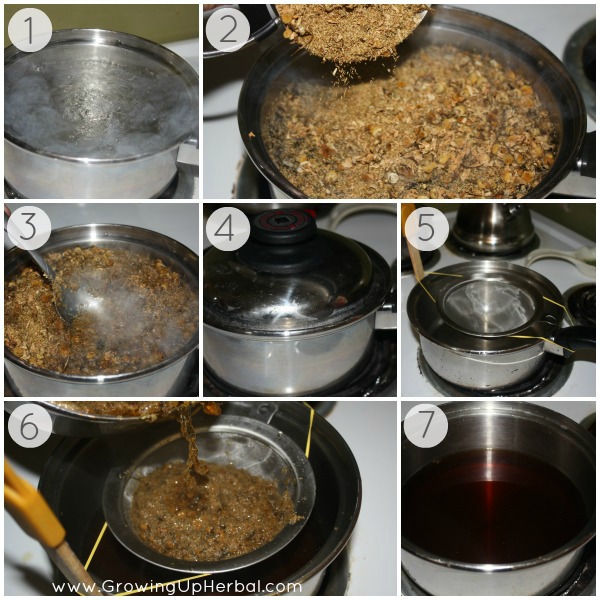 Boil Water
Step 1 – First things first. You're making tea, so you'll need to boil some water. You can boil 1-2 quarts of water on your stove in a saucepan as I did, or you can take a quicker road and boil your water in a tea kettle. Once your water comes to a boil, turn your eye off and remove your pan.
Add Herbs & Wet
Step 2-3 – Once your pan is removed from the heat, add 1 cup of dried chamomile to your water and get it thoroughly wet in the water.
Steep
Step 4 – Next, cover your pan with a lid or with a plate and let it steep for 10-15 minutes.
Strain
Step 5-6 – After your tea is finished steeping, it's time to strain it. If you have a fine-mesh sieve that fits over another bowl, that's great. Just pour your tea right into it. It will catch your herbs and your tea will come through into the bowl.
Unfortunately, I didn't have a large enough sieve, and the one I had lost its handle, so I rigged up something instead. Don't laugh! Just do what you need to with what you have! No one cares, as long as it works.
Put In Bath
Step 7 – So now that your herbs are strained out of your tea, you can compost them and you're all set to add your chamomile tea to your bath. Just pour this hot water straight into your kiddo's bathwater and mix it really well.
That's it! Let your kids play and wash their body and hair off with this awesome addition to their bath. If you want to go the extra mile, you can even add in 3-5 drops of chamomile essential oil into an ounce of sweet almond oil and add that to their bathwater as well. (Be careful though, it will make the tub… and them… a bit slippery, but it's SO good for their skin!)
Now you don't have to stick with chamomile, you can use any sort of herb you want. Peppermint, ginger, rose petals, etc. There are lots of herbs and you have lots of choices.
Enjoy! Meagan
Have you ever given your kid an herbal tea bath? What did they think?