Don't you just love it when you can purchase one item and use it for all sorts of things? I know I do. Not only does it cut down on the amount of stuff I have in my house, but it makes me feel like it's very useful and beneficial to our family.
Bentonite clay is one of those things. It's an amazing substance, and it has a lot of uses.
If you don't already know much about bentonite clay, check out this post I wrote last year on my friend Lauren's blog, Empowered Sustenance, called Bentonite Clay 101 + 15 Head-to-Toe Uses. In this post, I discuss what it is, what it does, what the different varieties mean, how to find a good quality of clay, concerns when using it, and of course… 15 ways to use it.
Okay, so like I said, I use it a lot, but today I'm gonna share 4 ways I use it with my kids. Keep in mind that there are so many more ways to use it than these… especially when you consider using it for adults and all its great household uses.
4 Ways I Use Bentonite Clay With My Kids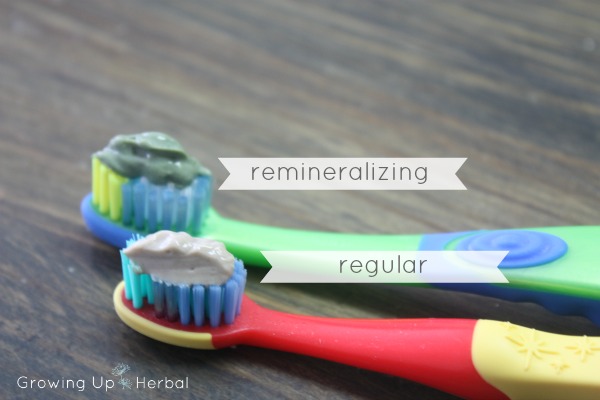 Homemade Toothpaste
I love using bentonite clay in our homemade toothpaste. I've shared two versions of homemade toothpaste here on the blog. One is a homemade coconut oil toothpaste, and the other is a homemade remineralizing toothpaste. We love them both, and my kids will use each of these consistently! The bentonite helps to thicken the toothpaste and because it's clay, it helps to polish the teeth gently as well.
Looking for an easy DIY toothpaste recipe. Check out this YouTube video I made a LONG time ago featuring one of my favorite homemade toothpaste recipes.
If I'm not in the mood to make my own toothpaste, or truth be told, I'm running behind, I simply buy
Earthpaste from Redmond Clay
on Amazon. I LOVE it! It's a perfect consistency, it lasts a long while, it doesn't go bad, and it tastes great. Our whole family likes it!
Detox Baths
Detox baths aren't super common here in our house, but whenever sickness is visiting us I do use these.
All I do is add in about 1-2 cups of bentonite clay to my kid's bath as it fills. I swish the water around to get it to mix in as much as possible and to soak up the water which will cause the bentonite clay to swell. When it's time for my sick little one to get it, we play "mud bath" which they love (hey, they're boys!). They scoop up the "mud" from the bottom of the tub and smear it all over themselves. This is a great game to play to get them to put the bentonite clay on their body which will help it draw the toxins out of their body especially if you can encourage them to put it on areas where their lymph nodes are. Below you can see the common pathways for lymph nodes as found in The Merck Manual of Medical information-Home Edition.
As you can see, clusters of lymph nodes are gathered in the sides of the neck, under the armpits, and in between the legs in the groin area. Our lymph nodes play a vital role in protecting the body and keeping it healthy. The lymph nodes play several important roles in our body's health, but one of the main things they do is filter bacteria, viruses, and fungi from our bodies to keep everything healthy and in balance. (Source) This is why detox baths can be so beneficial… especially with bentonite clay as it draws the toxins out of the body and to it like a magnet.
While I've not found any scientific evidence that supports the use of bentonite clay baths to help detox the body, I do use them from time to time based on their traditional use.
Detox Smoothies
Another way I sometimes use bentonite clay with my kids when they're sick or if I feel like they need a nice gentle detox is to put it in their smoothies. A little goes a long way so I'm sure not to overdo it. I usually add in 2 TBSP to our whole smoothie mix in my Vita-Mix which gives us about 4 – 8 oz. smoothies. If I'm making single-serving smoothies in my Magic Bullet, then I use around 2 tsp. of clay for each smoothie.
Bentonite clay can be mixed straight with water or juice and drank, but it's very difficult to get kids to take it this way as it can taste nasty to them. I've found that using it in smoothies masks the flavor well.
Drawing Clay
When I was running my Etsy shop, I used to sell a bentonite/herb powder mixture I called "Herbal Drawing Clay," and it was one of my best sellers.
You can use it on everything, but I primarily use it with my kids for first aid type things such as itchy rashes, splinters, and bug bites. It works wonders! Not only does the bentonite help to draw toxins, poisons, or embedded things out of the skin, but the herbs help in their own way as well. My next Ultimate How-To Herbal Guide will use this drawing clay blend in one of the exclusive recipes in the guide, so if you wanna know how to make it, you'll have to check it out there!
Where To Get Quality Bentonite Clay
I LOVE Redmond Clay's bentonite clay! It's a go-to source for a high-quality product. You can find it in many local health food stores or you can buy it right here on Amazon.
I hope you've enjoyed seeing how I use this great product on my kiddos, and I certainly hope it's given you some ideas for ways you can use it on yours!
Do you have any additional uses when it comes to bentonite and your kids? Share with me in the comments below so I can try them out!
This post was underwritten by Redmond Trading Company. All opinions are mine. Redmond Trading is your go-to source for bentonite clay products, real salt blends, clay toothpaste, mineral bath salts, and electrolyte replacement supplements. Redmond Trading products are sold in the US as well as internationally. Many of their products can be found in local stores as well as online, and they all have MANY different healthy, all-natural uses. Connect with them on Facebook and share why you love Redmond products so much!