How many remineralizing toothpastes are out there on the web? Now how many of them remineralize using food… herbs to be exact. I searched 10 pages of Google to find "herbal remineralizing toothpaste" and a few other targeted keywords and didn't come up with a single recipe that used an herb as the remineralizing source.
Well hopefully today that will change because I've come up with an all-natural toothpaste that will help to remineralize your child's teeth using herbs. One particular herb to be exact.
Meet The Superfood – Spirulina
Spirulina is green, algae-like plant called a cyanobacteria, and it's one of the highest protein and nutrient sources of food available. It's a superfood, and let me give you a little bit of advice. Use it… often!
Besides being at 65% complete protein (beef is only 22%), it contains all the essential amino acids (plus some non-essentials as well) and contains a healthy amount of omega-3 as well as some omega-6 and omega-9, it's high in chlorophyll (blood purifier and immune booster), high in iron (58 time that of raw spinach and 28 times that of beef liver), and it's full of vitamins and minerals.
This one herb should replace those junkie protein powders and fake multivitamins a lot of people take.
Now… in addition to all of this great stuff about spirulina, it's also great for tooth remineralization.
Why do you need to be concerned with tooth remineralization?
Today's diets, yes, even real food diets, many times are lacking in vital nutrients. Our soil is depleted, we eat quick fix convenience foods, we don't know what fermented or pasture-fed is, and organ meats are disgusting. Besides, we have all of our luxuries to pay forand we are busy. How on earth can we afford healthy foods like pastured meats and dairy or take the time to make homemade bone broth?
This type of thinking can lead to vitamin and mineral deficiencies in the body, and it's more obvious in children than it is in adults. One of the symptoms of vitamin and mineral deficiencies in children can be that of tooth decay and cavities.
When the body lacks important vitamins such as vitamin a, d and k and minerals like calcium and phosphorous then our bones suffer. Teeth are bones, and they too can become weak. This weakness leads to breakdown and breakdown leads to cavities.
Thankfully our bodies were created to overcome and to heal themselves. When we start to show signs of deficiencies like those of tooth decay we can implement some measures to get our bodies back on track and heal those areas of decay. All hope is not lost. Our teeth are a living part of our body, and when we nourish our bodies our teeth are nourished and they heal themselves. I mention several options too heal teeth in my post – Can You Really Heal Your Child's Teeth With Food, but today I want to add another option to it.
How To Make An Herbal Remineralizing Toothpaste With Spirulina
Like I said earlier, there are many remineralizing toothpastes out there on the internet today. Most of these recipes call for calcium powders to be added to a base toothpaste formula, but honestly… I'm not fond of using these supplemental powders. Overuse of calcium is thought to contribute to other health problems like heart disease and certain cancers, and sure, I get that you're not eating the calcium or taking it internally… you're just putting it on your teeth, but if we think that quality foods and nutrition is better than supplementing anyway, shouldn't we opt to find foods or plants where these minerals are naturally found… like spirulina?
I think so.
I did find one recipe that I'm loving from Food Renegade as it uses trace mineral drops. CLICK HERE to find it.
I should also say here that I've not found any studies that show that these remineralizing toothpastes work all on their own. They need to be used in conjunction with other remineralizing methods. Remineralization comes from these nutrients being found in sufficient levels in the blood stream. This means our siliva contains these minerals and saliva coats our teeth constantly, combating any demineralization that could be occurring. I'd suggest not only using spirulina in your remineralizing toothpaste recipes, but also using it in your foods, smoothies, herbal vitamin recipes, etc.
So if you are interested in an all-natural herbal remineralizing toothpaste recipe… look below.
You'll need the following supplies:
2 oz. pure, distilled water
3 TBSP bentonite clay
1/4 tsp. powdered stevia extract (you can use 1 tsp. powdered stevia leaf as that would be ideal, but it causes the toothpaste to have a different flavor which may be a problem for children) or 2 tsp. xylitol powder (as it has been shown to prevent cavities)
1/4 tsp. powdered spirulina
1/8 tsp. powdered real salt or baking soda
essential oils for flavor (I used sweet orange, lemon, and grapefruit – recipe below)
First, take your real salt or celtic sea salt (fine ground) and grind it into a fine powder in a mortar and pestle. This is to give you some scrub to your toothpaste, but not enough to scratch you or your child's teeth.
Next, add in your bentonite clay for polishing (buy here or buy here), stevia for sweetening (buy powdered extract here or buy whole leaf here) or xylitol (buy here), and your spirulina for its minerals (buy here or buy here).
Mix all your dry ingredients together in a bowl.
Add in your essential oils and blend these well into your powder. I used a combination of sweet orange (buy here or buy here), lemon (buy here or buy here), and grapefruit (buy here or buy here).
For the above powder mix I used 15 drops of sweet orange, 9 drops of lemon, and 6 drops of grapefruit. Keep in mind, if you double your powder mix, you'll need to double your essential oils as well.
I recommend clove (buy here or buy here) and cinnamon (buy here or buy here) oils for adults or a lemon and peppermint (buy here or buy here) blend.
Finally, you have an herbal tooth powder. You can put this mix into a jar, label and store it. Use it as is by dumping a small amount into your palm, wet your toothbrush, and dip it into the powder in your hand. Don't dip your brush directly into you powder as this cross-contaminates your powder and it won't last as long.
(I'd recommend doubling or tripling the above recipe so that you have a good amount of tooth powder made ahead of them. This is what I do so that when I'm pressed for time all I have to do is dump out some tooth powder, add in my distilled water, mix it up and put it in my container. Fast and easy!)
Now if you want to make this into a toothpaste, let's keep going.
The last thing you need to do is mix in 2 ounces of distilled water. A little more or a little less depending upon your preference, but I found this amount to be perfect for us.
Finally, put your toothpaste in a container (use glass jars like these or my favorite – squeezable GoTubes) and use it as you normally would.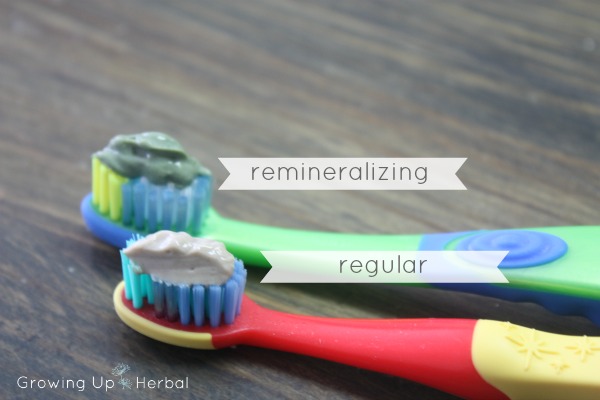 You can see in the photo above that I made two different mixes. One with spirulina and one without. Obviously the spirulina is going to turn your toothpaste green so if that bothers you or your kids (my kids thought it was super cool, but hey, they are boys), skip it in your toothpaste and just add it to your diet.
So what do you think? Is this doable? Have you ever thought about using spirulina in your homemade toothpaste to add in those remineralizing benefits? Let me know your thoughts and/or questions in the comments below.
Sources:
http://chriskresser.com/calcium-supplements-why-you-should-think-twice
http://articles.mercola.com/sites/articles/archive/2012/01/30/calcium-supplement-on-heart-attack.aspx
http://health.howstuffworks.com/wellness/oral-care/procedures/remineralization-of-teeth.htm
http://www.westonaprice.org/health-issues/dietary-supplements?qh=YToxOntpOjA7czo5OiJzcGlydWxpbmEiO30%3D
http://www.ncbi.nlm.nih.gov/pubmed/12693818