Let's rewind back to about 5 years ago. When I first started using essential oils as a part of my natural medicine toolbox, I went about it all wrong. You see… I started using the oils before I really knew a whole lot about them.
Sure I knew which oil to use for which ailment and to put a certain number of drops in a certain amount of carrier oil, but honestly, that's about it. I knew nothing about the different methods that can be used with essential oils, about blending the right oils together to create powerhouse synergy blends, or about safely using these concentrated oils on myself and my kids other than not using them straight on the skin.
You see, I was like many natural mamas today. I was trying to avoid toxins and meds and go with something natural, and instead of learning about this particular option myself, I blindly went along with what other people told me about it. Plus, it was natural, and natural means safe, right?
Wrong. Essential oils are strong… concentrated plant chemicals, and they should be used with wisdom. There are times when I used stronger dilutions that I should have. There were times when I used certain oils on my children that weren't safe for them. Thank heavens my family never suffered any ill effects from my first attempts at using essential oils.
Fast forward back to present day. No, I'm not an aromatherapist, but I've done a lot of research and reading about essential oils especially when it comes to using them on children. I personally love these oils since they are herbal, and I tend to use them in combination with herbs to prevent illness and aid the body in healing itself when we do come down with something.
I've tried many essential oil brands over the years, and the more I learn, the more I narrow in on the brands I like to use.
I recently came across a newer line of essential oils from Plant Therapy called KidSafe Synergies. I'd heard a bit about Plant Therapy, but I'd never really looked into them all that much; however, this new product line caught my attention because it's for kids, and it's safe for them. I quickly looked into the line, found out that it was formulated and developed by world-renowned aromatherapist Robert Tisserand, and immediately contacted the company to see if I could try the oils.
I'm so excited to let you know that not only am I interviewing one of Plant Therapy's certified aromatherapists about this new line of essential oils today, but you'll be seeing more of these oils in action over a period of several months here on Growing Up Herbal. Plant Therapy and I are teaming up to bring you a series of posts that feature these KidSafe synergy blends so not only will you learn more about this line of oils and this company, but you'll see these oils actually being used in a variety of ways.
I would also like to say that Plant Therapy currently does not offer an affiliate program and is not an MLM company so this post is not to push you into buying their oils so that I make a killing off of selling them to you. This is simply to inform you more on a great quality brand of oils that you can feel safe using on your little ones if you choose.
I hope you enjoy this new series here on Growing Up Herbal as well as this interview today!
A Q&A About Plant Therapy's KidSafe Essential Oils
Today's Q&A is with Retha Nesmith, Plant Therapy's Director of Marketing and one of their full-time certified aromatherapists. Below is her bio from the Plant Therapy website.
T
wo and a half years ago I was given the opportunity to come on board with Plant Therapy. I cannot believe how much I have grown and how much Plant Therapy has grown in such a short period of time. I have been able to become certified in aromatherapy through the Aromahead Institute course, work with some of the most well-known experts in the industry and become a friend to many customers. I enjoy every aspect of my job including being able to educate our customers and seeing so many lives change for the better.
I grew up using essential oils and have always been blessed to know there are so many ways we can heal our bodies. Being able to pass my knowledge and success onto others has truly been a blessing in my life. I work full-time for Plant Therapy from home. I have two young boys and a sweet new baby girl and love being able to stay home with them and watch them learn and grow every day. My husband has been an amazing support as I have fully jumped into this new phase in my life as being Plant Therapy's Director of Marketing and one of their certified aromatherapists.
Retha, you are a certified aromatherapist working for Plant Therapy. How long have you worked for this company, and what is it about them that makes you loyal?
I have worked for Plant Therapy for 2.5 years. Chris Jones, the owner of Plant Therapy, is my brother-in-law. I first started working for Plant Therapy because I needed to make a little extra money. That quickly turned into a full-time job. I almost immediately started my certification program through Aromahead Institute and got my certificate in aromatherapy over a year ago. I grew up using essential oils and my mother is a certified aromatherapist. Essential oils have always been a part of my life, and being able to help educate people on the many uses of them is truly a blessing!
What does your role as an aromatherapist for Plant Therapy consist of?
I started out as Plant Therapy's first full-time aromatherapist. I wrote their blog — www.essentialoilblogging.com, answered customer service questions related to aromatherapy and worked with Robert Tisserand to continually increase the quality control process at Plant Therapy. Plant Therapy now has 4 full-time aromatherapists who have mostly taken over my old responsibilities. I mostly am over marketing and working directly with Robert Tisserand to help with new products, quality control, and product descriptions.
Big essential oil companies often tout that the reason their oils are priced so high is due to the quality of the oils they sell and the fact that their oils are "therapeutic". From what I know about essential oil terminology, I believe the term "therapeutic" is misused, is that right?
That is correct. There is no grading or certifying of essential oils in the United States and any company can label their essential oils therapeutic. Some companies use trademark terms such as "therapeutic grade" as a name for their quality control, but "therapeutic grade" is simply that, a marketing term. Essential oils are known as cosmetics by the FDA. Some essential oils are also considered supplements but that is simply labeling regulations. Essential oils simply are not regulated in the United States. It's important that the company is doing all necessary testing and sharing that information with their customers so the customers can see for themselves exactly what they are purchasing.
Compared to other essential oil companies, Plant Therapy offers their products at a much lower price range even though their oils are "pure" essential oils. Can you explain how they're able to keep the costs low without affecting the quality of the oils they offer?
The biggest reason we can sell our oils for less is that we do not have up-lines we have to pay. This saves us at least 25% on all products. Plant Therapy has two warehouses in Twin Falls, ID where we bottle and label all of the products ourselves and we buy our oils in large quantities so we can get the very best price.
I also understand that when it comes to essential oil quality, it all starts with the herbs they come from. As an herbalist, I can understand how growing conditions, correct harvesting times, and proper storage procedures can affect the end result of the essential oils that come from those plants. I'm sure there's a lot to the entire process, but I'm curious about the relationship Plant Therapy has with the companies or individuals they source their products from? Do they have connections with the farmers that grow the herbs the essential oils are made from? If not, are the companies they source their essential oils from keeping up with these quality standards?
Plant Therapy does have a relationship with most of the farmers, distillers, and suppliers where we purchase our oils from. We only purchase from those who are well known in the industry and who have proven time and time again to only provide the highest and purest quality oils. We only work with the experts in the industry who have been doing this for many, many years and who do it the right way every time.
I'm aware that Plant Therapy partnered with Robert Tisserand, a world-renowned essential oil expert. Can you tell me when this partnership began, and what his role is in the Plant Therapy company?
We have! Robert Tisserand starting consulting for Plant Therapy over a year and a half ago. He plays a big role in our sourcing of oils, quality control, and product descriptions.
One of the things Plant Therapy and Robert Tisserand teamed up to create is a line of essential oil synergy blends called "KidSafe Synergies". These oil blends are specifically formulated for children ages 2-10. Can you tell me how this new line of essential oils came about, and what your goal is with this line of oils?
Almost two years ago I had mentioned that a "kid safe line" of synergies would be great for our customers. We get questions all the time on what oils are the safest to use on young children. I wanted a line of oils that our customers to go to and know that these truly are the safest oils for children, taking the guesswork out. After much discussion, we knew that we needed to go to the world's essential oil safety expert. We quickly contacted Robert Tisserand, told him about our idea and started working on synergies and the formulations for our new KidSafe line of synergies.
Do you offer any specific information for parents that would help them use these products safely and effectively with their children?
On our website, we have some usage instructions that we will soon be adding to under each individual synergy. This is a great place for parents to start. We also have 4 full-time aromatherapists on staff that are here to help. Everyone is more than welcome to email us at aromatherapist@planttherapy.com with any questions you might have.
I know that there are some changes coming to Plant Therapy soon, at least visually. Can you tell me about any future plans and what to expect?
We do have some exciting changes coming to Plant Therapy! We haven't announced many of the changes yet but one thing that our customers are already starting to see changed are our labels! The whole "look" of Plant Therapy is being updated as well as many other exciting changes.
Thank you, Retha, for sharing more about Plant Therapy and the KidSafe Synergy line of essential oils. I'm looking forward to using them more in the months to come!
Have you tried the Plant Therapy KidSafe line yet? If so, which blend is your favorite?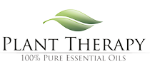 Plant Therapy offers 100%, pure, undiluted essential oils sourced from some of the top essential oil suppliers in the world. They have single oils and synergy blends, as well as a line of synergy blends specific to children. Not only do they offer high-quality essential oils, but they also offer carrier oils, hydrosols, and other essential oil accessories to help you keep yourself and your home naturally healthy.