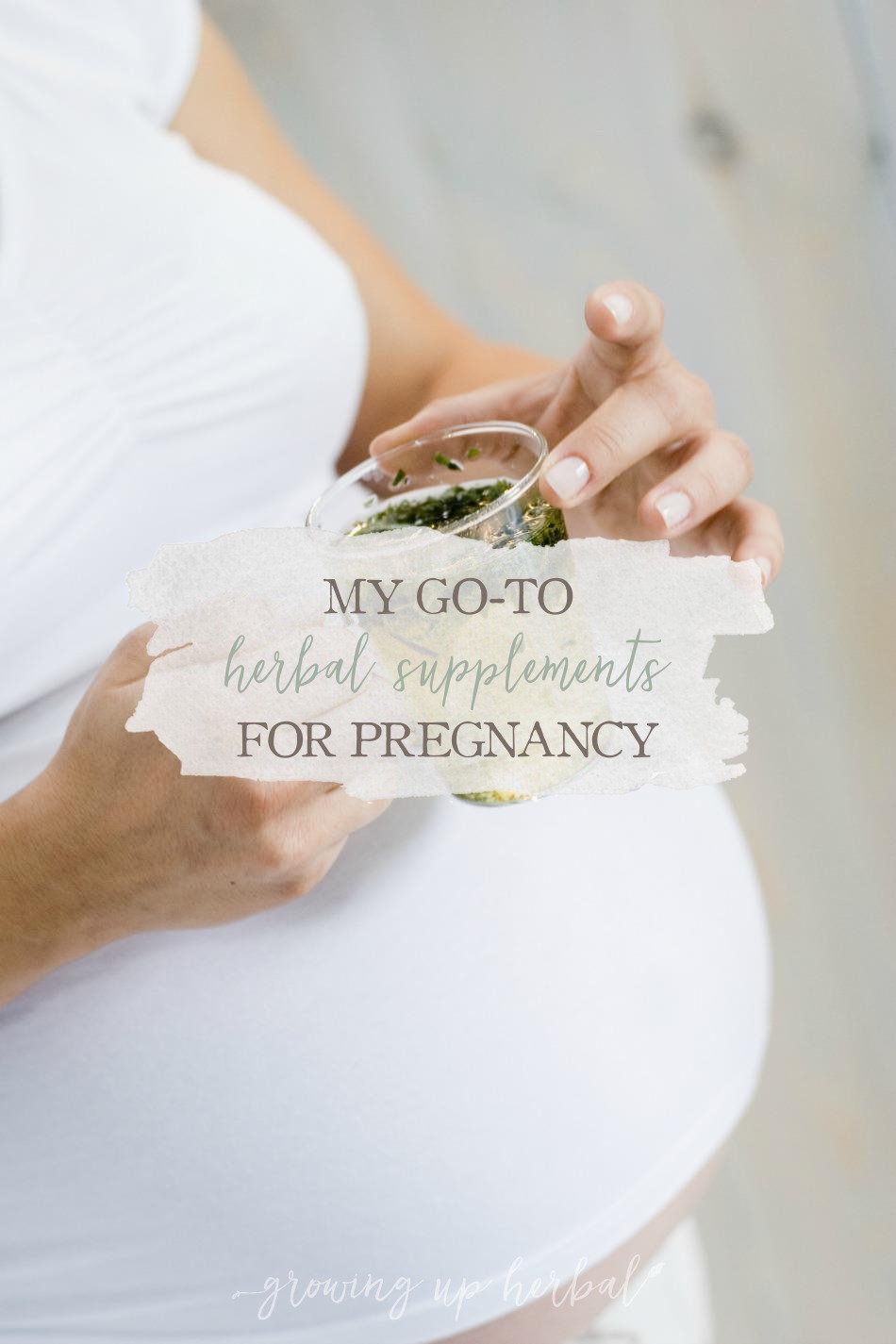 Have you ever wondered what herbal supplements you should take during pregnancy to help you stay strong and prep your body for a healthy delivery?
Maybe you've come across remedies for pregnancy-related ailments or a list of individual herbs to use to help strengthen your uterus.
Which of those are needed and which ones can you skip?
Today I want to make things a bit simpler and share my personal go-to herbal supplements for pregnancy with you.
These are my favorite herbal supplements that I've used over the course of four pregnancies, and they all contain safe herbs that are okay for preggo mamas to use. With that in mind, it's always a good idea to run anything you're planning on taking by your OB-GYN or midwife first, just to be on the safe side.
Are Supplements Really All That Necessary?
I'm not big on taking a ton of supplements… even if they're natural and healthy. I really want to work at getting the most of my nutrition from a good diet.
Unfortunately, that's not always as easy as it sounds. There are times in life, during busy seasons, times of illness, and times of physical change where supplementing my diet has been the right choice for me.
Pregnancy is one of those times.
Pregnancy can be a joyous time in a woman's life, but it's also a time of change, growth, and physical stress on a woman's body.
I've heard it said by nutritionists that it's impossible to get all the nutrition we need from our modern diets (even traditional real food diets) and that supplementation is a must. If that's true when you aren't pregnant, then supplements are a definite must when you are pregnant as extra nutrition is needed to help you grow a strong, healthy baby.
Enter, my favorite herbal supplements for pregnancy.
My Go-To Herbal Supplements For Pregnancy
Below you'll find my favorite herbal supplements for pregnancy broken down into the following categories.
Nutritional Supplements
Tonic Supplements
Ailment Supplements
Labor Prep Supplements
Nutritional Supplements
The first thing I do before I start trying to get pregnant is to start taking a high-quality whole food prenatal vitamin to help me get extra nutrients I'll need for conception and sustaining a pregnancy. Not only does it contain vitamins sourced from whole foods, but it has minerals, probiotics, herbs, and mushrooms added in too. It's so healthy, and it always gives me the extra energy I need during this time of life.
I love Garden of Life's Raw Prenatal. Not only does it contain vitamins sourced from whole foods, but it has minerals, probiotics, herbs, and mushrooms added in too. It's so healthy, and it always gives me the extra energy I need during this time of life.
Once I find out I'm pregnant, after doing a happy dance and telling my hubbie, I add in their probiotic supplement called Primal Defense. Not only does it help support my gut health and immune system during this time, but it can help cut down on pregnancy related GI issues like gas and constipation.
The last nutritional supplement I use during pregnancy is a prenatal DHA capsule called Ocean's Mom. Omega oils are good for your health, but they're also good for your baby's brain development, especially when taken during the first trimester.
Tonic Supplements
About 2-3 months into my pregnancy, I start supplementing with some form of red raspberry leaf.
Capsules, teas, tinctures… whatever. I just do my best to get it in.
Red raspberry leaf has been long known as a "woman's herb" although it can be used for men too. It has a medically proven and trusted track record in helping strengthen the womb of a pregnant woman as well as restoring the womb after delivery.
My preferred red raspberry leaf supplement is Bulk Herb Store's Mama's Red Raspberry Brew. Not only does it contain red raspberry leaves, but it has nettle and alfalfa in it which are high in minerals and can help cut down on pregnancy-related ailments as well as a small amount of peppermint for flavor.
Ailment Supplements
Pregnancy can be a hard time for some mamas.
I've been lucky that I've never really had any major health issues during my pregnancies, but like most all mamas, I have had my fair share of common pregnancy-related issues like morning sickness, mild swelling, headaches, etc.
Below is a list of herbal remedies I like to use for many of these common pregnancy issues.
Labor Prep Supplements
The last thing I do in my pregnancy is to prepare for the actual birth of my baby.
About 5-6 weeks before my due date I begin using Moutain Meadow Herbs "Gentle Birth" labor prep supplement. It helps to get your body ready to have a quick, safe delivery, and it minimizes complications such as hemorrhage and things of that nature.
I didn't take this supplement with my first pregnancy (I took a different one) and you all know how long that one was. I did take it with the last three and they all went much faster and much easier than the first. I'm certain there was more to Judah's prolonged delivery than not taking this supplement, but I definitley think that having it would have helped.
You Can Have A Naturally Healthy Pregnancy
Herbs are such a gift, and I'm so grateful to have easy access to them.
I hope you've enjoyed seeing what herbal supplements I like to use during my pregnancies. I hope that this empowers you to pursue having a naturally healthy pregnancy of your own.
This post was originally written on November 29, 2011 and has been updated for accuracy.
What are your favorite herbal supplements for pregnancy? Share them with me in the comments below!