The older my kids get and the further into homeschooling we go, the more I'm out and about, running here and there. And with four wild boys who are always into something or another, cuts, scrapes, and bruises are sure to happen. They're either running, falling, climbing, wrestling, throwing or doing some other rough thing that goes along with growing up. That means that having homemade herbal salve sticks with me is a must.
Speaking of cut, scraped, and bruised children… just the other day I took the kids to the planetarium at the local university, and as we were walking in, I looked down at Isaiah's legs only to find them covered in scrapes, bruises of all stages, bug bites, and more. Add that in with the fact that his finger is bandaged, and I was worried someone would be concerned about my parenting skills (or lack thereof) and his safety!
Yes, I was feeling as if I would be judged, but then I reminded myself that if they just saw him play for 5 minutes, they'd totally understand why he looked as he did… and maybe they'd feel sorry for his poor homeschooling mother. Yes, they definitely would.
By the way, are my kids the only kids that think salve and a band-aid is a cure all? I doubt it. I've had to make a rule in our house that if it's not bleeding, you don't get a salve and a band-aid.
Good grief! I'm going to have to take out stock in band-aids and batteries. I know you can relate, mama.
Okay, so back to the homemade herbal salve sticks.
Today, I'd like to share this easy recipe with you because you are like me and your kids need it. It combines oils, herbs, and essential oils together in convenient travel sized sticks that make it easy to take with you in a travel first aid kit, in your purse, or anywhere where you're on the go.
Better Than Kisses Homemade Herbal Salve Sticks
Ingredients:
Directions: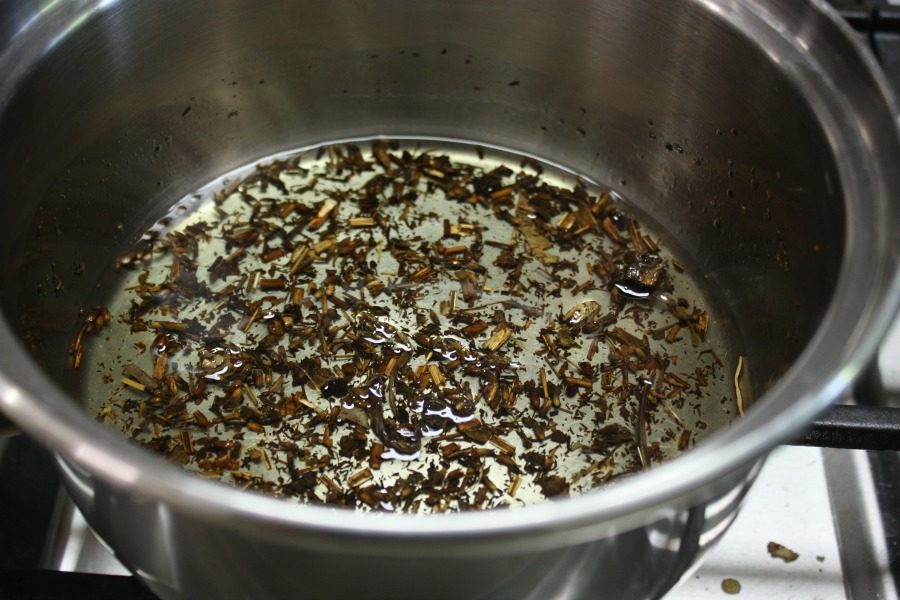 Start by warming your oil and herbs in a double boiler. Let this mixture infuse for a good hour. Be sure to keep an eye out for the water level in your bottom pan!
Once your herbs have infused, turn the heat off, strain your herbs through a paper towel and add them to your compost been. Wipe your pan out to remove any pieces of herbs. You'll loose a couple teaspoons of infused oil during this process, but that's okay.
Get your double boiler going again and add your infused herbal oil and beeswax back into the top pan. I tend to use around 2 teaspoons of beeswax, but if you want your homemade herbal salve sticks softer use around 1 teaspoon. At this point, you want to warm your herbal oil slowly until the beeswax melts.
Turn your heat off, and add in your essential oils.
You'll be adding in 50 drops of essential oils which is a 10% dilution and totally appropriate for this use. These homemade herbal salve sticks are used on a small area and intended for first aid use so the dilution is higher than if you were using them on a large area of skin or for aromatherapy or even prevention's sake.
Next, transfer to a mixing cup with an easy pour spout and fill your lip balm tubes.
And that's it. You've just made homemade herbal salve sticks.
Want even more herbal salve recipes? Check out my e-book, Herbal Ointments, Salves & Balms: The Ultimate How-To Guide! Not only will it tell you which of these ointments to use and why, but it will walk you through the steps of making them yourself! Plus, you'll learn how to source quality ingredients, how to keep your creations shelf-stable, and how to add "advanced" ingredients into them. Oh… and you'll get 5 exclusive recipes to help you get started making your own herbal ointments, salves, and balms right away! Learn more about it here!
You can be happy knowing you're not exposing your kids to unnecessary antibiotics found in common store-bought first-aid ointments, and your kids will be happy because homemade herbal salve sticks make everything better.
Oh, don't forget the band-aids. You must have band-aids or it won't work. 😉
Kissing boo-boos and mending wounds,
Meagan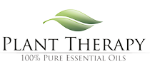 This post was underwritten by Plant Therapy. All opinions are mine. Plant Therapy offers 100%, pure, undiluted essential oils sourced from some of the top essential oil suppliers in the world. They have single oils and synergy blends as well as a line of synergy blends specific to children. Not only do they offer high-quality essential oils, but they also offer carrier oils, hydrosols, and other essential oil accessories to help you keep yourself and your home naturally healthy.