Growing up, I don't remember anyone in my family having stinky feet. I didn't, my mom didn't, my dad didn't — at least, not that I knew of. I mean, I knew that wearing shoes with no socks would make your feet stink, but since none of us did that, it wasn't something I was exposed to. I guess you could say I was oblivious to stinky feet.
However, as I got older, I caught on to the supposed fact that most guys had stinky feet. I remember the guys at school joking about how badly their feet stank, and I remember being told that one day when I was married with growing boys in the house, I'd be surrounded by stinky feet. Again, I didn't think much about it.
Well, here I am, married with growing boys in the house, and you know what? Those people were right! There are times when I feel that I'm surrounded by stinky feet, and honestly, I'm not always sure how to deal with it.
As the boys get bigger, I notice that they're starting to get smellier, and I realize there's going to come a time when we're going to need to move beyond teaching them basic hygiene for boys such as taking baths, washing your hands and face, cutting your nails, and cleaning their ears. We're eventually going to need to teach them additional ways to care for themselves as a teenager.
Eventually, hormones are going to play a primary role in their lives, and we're going to have to teach them more about skin care than simply washing their face because it's dirty. We're going to have to remind them to shower daily and use deodorant (a healthy, homemade version) afterward rather than taking a bath a few times a week. I'm not sure what else there is that I'll need to teach them about — I've never been around growing teenage boys before seeing how I was an only child, but I'm sure my husband will fill me in when the time comes. For now, the only thing I'm noticing is that their feet are beginning to be a bit stinkier than they were when they were babies.
Speaking of babies, mama, do you remember how sweet and cute your kiddo's feet were when they were babies? How you took pictures of them all the time, how you sang little songs while you played with their toes, and how you were constantly giving them little kisses? How is it that something so tiny and kissable can change to something so stinky and, well, unkissable? It's crazy!
Okay, back to growing kids and stinky feet.
As I notice this more, I've begun to do some research on how to deal with it, and I'm finding that having stinky feet isn't just a male thing. Females can have stinky feet too. I also found that stinky feet are the result of sweat and bacteria growth and that without proper foot hygiene, it can get worse and worse, eventually leading to bacterial or fungal infections.
So, if you're like me, mama, and you're looking for some ways to teach your kids how to care for their feet and cut down on stinky feet, I'm sharing what I've found in my own research on this topic with you below.
Natural Tips For Growing Boys With Stinky Feet
Tip #1: Keep Feet (And Shoes) Dry
I think this is the most important tip, so I'm going to start with it. Teaching your kids to keep their feet (and shoes) dry will go a long way at keeping stinky feet at bay.
The easiest thing they can do to keep their feet and shoes dry is to, obviously, not get them wet. I know this is tough for boys. They see a puddle and everything in them wants to run over and splash in it! Ha! Maybe the same is true for girls, too. I have no idea.
One thing you can do is make sure their feet and shoes stay dry is to make sure your kiddo wears rain boots on wet days and snow boots on snowy days. If their shoes do get wet, you can have your kiddo wear a different pair of shoes while the wet ones dry out. Also, make sure they dry their feet well before putting on new socks and shoes.
Tip #2: Change Socks Often
I'm almost embarrassed to admit this, but I'm going to anyway. Sometimes, I notice my boys wearing socks, and I'm honestly not sure how long they've been wearing them. Truth!
As a busy mama of four, socks and how often they're changed is rarely at the forefront of my mind. Plus, laundry. I mean, I hate laundry. It's a never-ending, often overwhelming task, and I'm not asking for more of it. However, this is definitely something I could do a better job of teaching the boys to keep up with.
I buy the boys cotton socks, and they have a ton of them. I also tell them to take their socks off at night before getting in bed. I'm not sure if there's any truth to this or not, but I feel like it allows their feet to get more air. I know cotton is a breathable fabric, but it seems like wearing socks all day and all night isn't a great idea. Again, I'm not sure if there's truth to that, but at least reminding the boys to take their shoes off at night will help them to change them more frequently.
Another way to get kids to change their socks frequently is to remind them to change them after playing sports or playing outside for a long time. Feet get hot in shoes, especially when we're active, and after hours of sports and outdoor play, your kid's socks are most likely damp. A gentle reminder to put their shoes away when they come in and change their socks should take too long.
Tip #3: Deodorize Shoes & The Sock Drawer
When kids (and adults) take their shoes off, it can be a good idea to deodorize the shoes to remove any odors that may build up. The easiest way to do this is by using a deodorizing shoe powder. You can buy deodorizing shoe powders in stores, but you can easily make your own DIY shoe powder at home using a few simple ingredients.
DIY Lemon Mint Stinky Feet Shoe Powder
Yields 2 cups
Ingredients:
Directions:
Place 1 1/2 cups of baking soda in a bowl.
Place 3/4 cup of peppermint leaf in a high-powered blender or blend small amounts at a time in a coffee grinder until finely powdered. If you want, you can sift your powder through a fine, mesh sieve and use the powder the comes through. Add 1/2 cup of powdered peppermint to the bowl of baking soda, and mix well.
Add essential oil drops to powder and whisk well to incorporate oils into powder.
Place mixture in a 2 cup glass mason jar. Cap with a shaker lid. Label and store next to shoes.
To Use:
After removing shoes, sprinkle powder inside and tap the toe of the shoe on the palm of your hand to knock the powder down into the shoe. Tap the shoe over a trash can to remove any extra powder from the shoe, if needed.
Another way to deodorize shoes (and the sock drawer) naturally is to make a DIY herbal sachet filled with fragrant herbs and essential oils to store inside of shoes when you're not wearing them or in the corners of your sock drawer.
DIY Lemon Mint Herb Sachet
Yields 1 cup of sachet mix (~4 sachets)
Ingredients:
Directions:
Combine herbs in a bowl, and mix well.
In a separate bowl, combine baking soda and essential oil drops. Whisk well until essential oils are incorporated into powder.
Place 1/4 cup of herb mixture in each cotton drawstring bag. Add 1 tablespoon of powder mixture to each bag. Close bags and tie tightly.
To Use:
After removing shoes, place one sachet in each shoe. If using sachets in the sock drawer, place one sachet under socks in the drawer. Replace sachets with fresh mixture (you can reuse the drawstring bags) every 4 weeks.
Time Flies
With each passing year, it seems that time flies quicker than ever. I feel like it was just last year that I had infants in my house, and now my youngest is almost five!
As my boys grow and change, so do I as their mom. I'm growing and changing alongside them, and I suppose I'll always be teaching them how to care for themselves in some capacity, just as I did when they were little.
If you have kids in your home that are starting to get a wee bit smelly at times, I hope these tips have helped you — at least when it comes to dealing with stinky feet!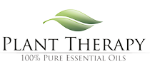 This post was underwritten by Plant Therapy. All opinions are mine. Plant Therapy offers 100%, pure, undiluted essential oils sourced from some of the top essential oil suppliers in the world. They have single oils and synergy blends, as well as a line of synergy blends specific to children. Not only do they offer high-quality essential oils, but they also offer carrier oils, hydrosols, and other essential oil accessories to help you keep yourself and your home naturally healthy.