Umm! There aren't many things that are better than just-from-the-oven-muffins. The grass-fed butter just melts right in, they taste so sweet, and they go down perfectly with a cold glass of raw milk. Just writing this makes me want to bake a batch and eat them for dessert! I'll refrain of course, and I wouldn't advise you to overindulge in the carb-rich goodness of muffins either… especially if you're trying to watch your weight.
Today I wanna share a new muffin recipe with you… an experimental one that turned out great. I call it Carrot and Sage Muffins, and it's even better with a little maple syrup drizzle over it. I'm also sharing one way I've simplified meal planning for myself and the new approach to cooking that I've been playing around with. All the details are below!
Meal Planning Blues
Up until recently, meal planning has been a huge pain in the rear for me. I dreaded it each week… some weeks skipping it entirely, but always eventually going back to it because we spent less money, wasted less food, and ate healthier when I did it. I just really, really hated the process. I knew I needed to find a way to make it simpler so it could work for me.
Now there are a lot of bloggers out there sharing their meal planning systems with others. These systems are great systems that work well, but unfortunately, none of them seemed to work for me. I'd learn a thing here and a thing there, try this and try that. Everything seemed to be too complicated or take up too much time. Thankfully I've finally figured out a way to do it that seems to be working great for us.
One of the things I do to make meal planning easier is to have the same things for breakfast each week (no, not the same thing each day).
For example, on Mondays we always have oatmeal. The type of oatmeal or the recipe changes each week. One week we may have maple syrup and blueberry oatmeal, then the following week we may have strawberries and cream oatmeal, followed by peach and pecan oatmeal the week after that. Wednesday's are muffin days. I love Wednesdays. We have a muffin with homemade yogurt and some sort of fruit on the side. I'm all about simple and easy as long as it's healthy.
Experimenting With Herbs In Recipes
Another thing I've been working on recently is incorporating more herbs into the foods we eat. As I'm sure you know, herbs aren't just for medicine. Many herbs are nutritional and are full of vitamins and minerals. Plus, they have some interesting flavors.
Now I've never been much of a cook, but when you wanna cook healthy real food meals, most of them involve getting fresh ingredients and getting in the kitchen and cooking. So over the years my love of cooking has grown. I really enjoy trying new recipes, learning how to pair main dishes and sides together, trying to substitute and change recipes to suit my family, etc.
Recently I decided to experiment with one of my favorite muffin recipes.
I can't remember where the original recipe came from. It's called "Carrot Cake Muffins" or something like that, and it's delicious and full of healthy ingredients that make a super moist muffin that's oh so sweet.
To cut the sweetness and add a hint of a different flavor to it I decided to add in some ground sage and see how that worked out. To my surprise it was great! You can definitely still taste the carroty sweetness of the original recipe, but adding the sage helped to add a savory element to it. You can really taste it with each bite. It's delicious! My kids love it, and I hope you enjoy it too!
Carrot And Sage Muffins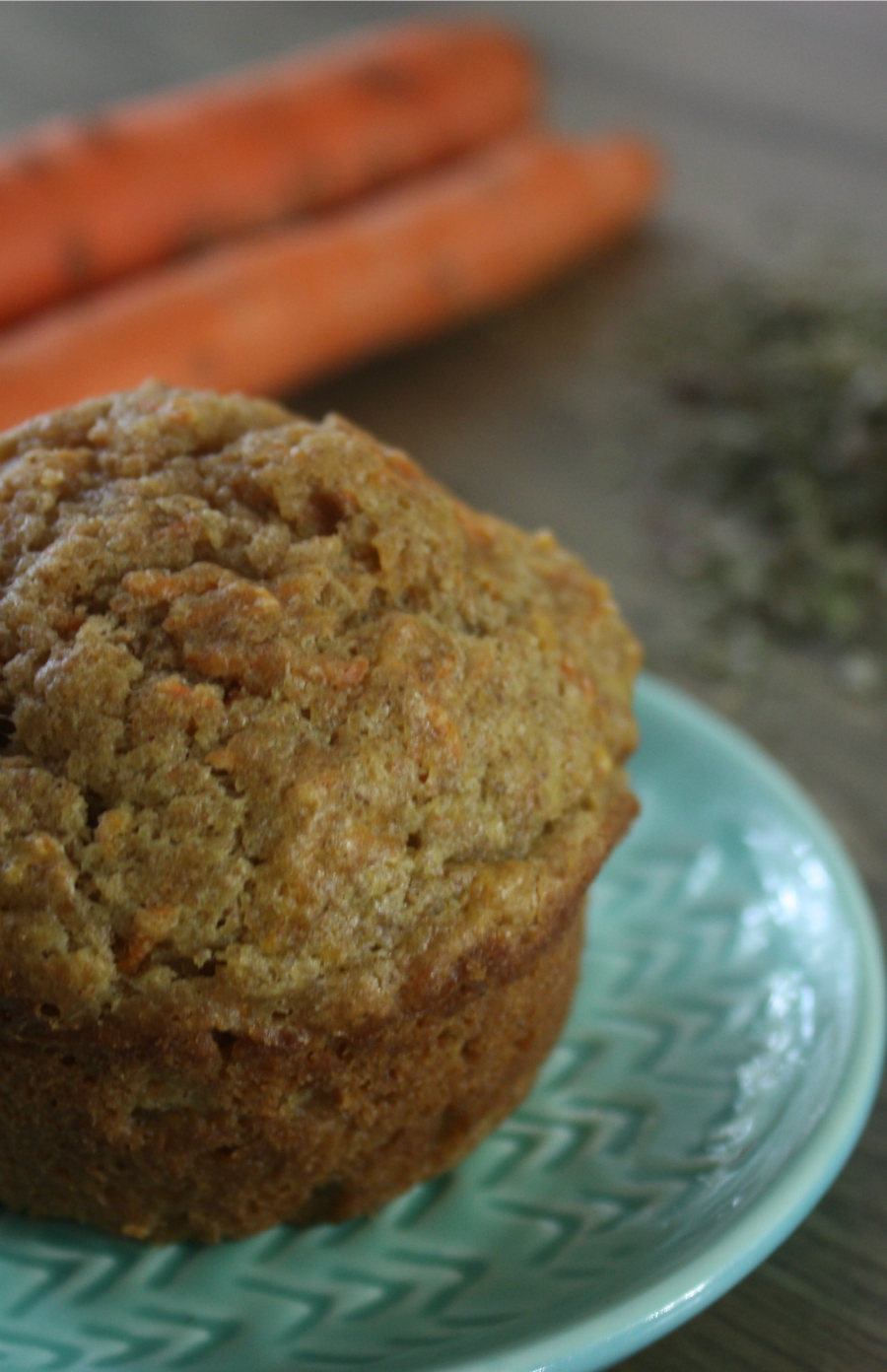 Ingredients:
1 3/4 c. white whole wheat flour
1 tsp. baking powder
1 tsp. baking soda
1 tsp. ground sage
1/2 tsp. salt
1 tsp. cinnamon
2 eggs
1/2 c. maple syrup
1/2 c. coconut oil
1/2 c. applesauce
1 tsp. vanilla
1 1/2 c. grated carrots (3 medium carrots)
extra maple syrup for drizzle (optional)
Directions:
Preheat oven to 350 degrees and grease a 12 muffin tin with coconut oil.
Add wet ingredients together in a large bowl (excluding carrots) and mix well.
Add dry ingredients to wet and mix just combined. Fold in carrots.
Fill muffin tin 3/4 full. Bake for 20 minutes.
Remove from oven and let pan cool 5 minutes before removing muffins.
Plate and drizzle with a small amount of maple syrup for extra sweetness.
[yumprint-recipe id='15']
What's your favorite muffin recipe? Tell me in the comments below!