This past week, the whole Visser family (all 34 of us) went to the Appalachian Fair in Gray, TN… one of our many yearly traditions. We always look forward to this event at the end of August, and this year makes our (my and Dean's) 15th year of going together.
When we were in high school, we couldn't wait to go to the fair! All of us teenagers would separate from the parents and ride the rides (especially the crazy, fast ones), eat junk food (corn dogs, blooming onions, funnel cakes, and pecan logs), play games (the guys loved showing us how strong they were), look at all the different animals (especially the babies), watch the special events (monster trucks and motocross racing), go to the concerts (The Charlie Daniel Band has been our favorite so far), and shop around the local booths (for handmade pottery, handspun and hand-dyed wool, and handmade soap).
Now that we're older and all have kids, we do a lot of the same things only we skip the concerts, we don't eat as much junk food, and we don't ride as many crazy fair rides. No matter, it's something we all look forward to every single year!
Today, I'd like to tell you a little more about this family tradition of ours (including how it all started when my father-in-law took my mother-in-law back when they were first dating) and show you some photos of this year's trip to the fair. I hope you enjoy them!
How It All Began
This little family tradition began back before any of us were ever born, or even thought of really.
In 1974, when my in-laws were teenagers, my father-in-law took my mother-in-law on a date to the Appalachian Fair for the first time. That year, he bought her a baby duck that she had fallen in love with, and she said that's when she knew he loved her. You see, my mother-in-law LOVES animals. She's had lots of different animals for as long as I can remember, even when she's lived in the city. They are very important to her so I guess when my father-in-law bought her that little duck, she knew he was okay and supportive of her "animal habit." LOL!
That was the start of a yearly tradition for them. They came every year until they moved away to Pennsylvania when their kids were young, but as soon as they moved back, the tradition began again and has continued every year since!
Fair Traditions
For us, our yearly trips to the fair are almost the same as they were when we were teenagers.
We all get to the fair at different times in the afternoon and begin looking through all the buildings at the local 4H displays and the booths of the local artists. One of my sisters-in-law submitted some of her photographs this year and one first place for one of them!
Eventually, we all meet up to eat dinner together. Fair food, as you know, is not healthy, but we don't sweat it. It's a once a year tradition, and we eat what we want. We normally go for corn dogs, fries, and freshly made lemonade. After dinner, Mom-mom and Pop-pop take all the grandkids and get them a scoop of ice cream, and Dean & I head off to find the Shriner's booth so we can buy a pecan log from them. This is the only time of the year we get a pecan log, and we so look forward to it!
After dinner, we take the kids on some rides. They each get to pick one ride they want, and if their brothers want to ride with them, they can. Judah rode the Ferris Wheel with Dean, Isaiah chose to ride a caterpillar roller coaster with Uriah, Uriah rode the bumper cars with Dean, and Ezrah rode a bee ride with Isaiah.
Next up, we head down to see the shows that are going on. The boys love watching the monster trucks race and they enjoy seeing the demolition derby races too.
When they get tired of that, we head off to see the animals. They're not all that interested in seeing all of the animals at the fair, but they love looking at the big cows and the baby animals, especially the sliding baby ducks.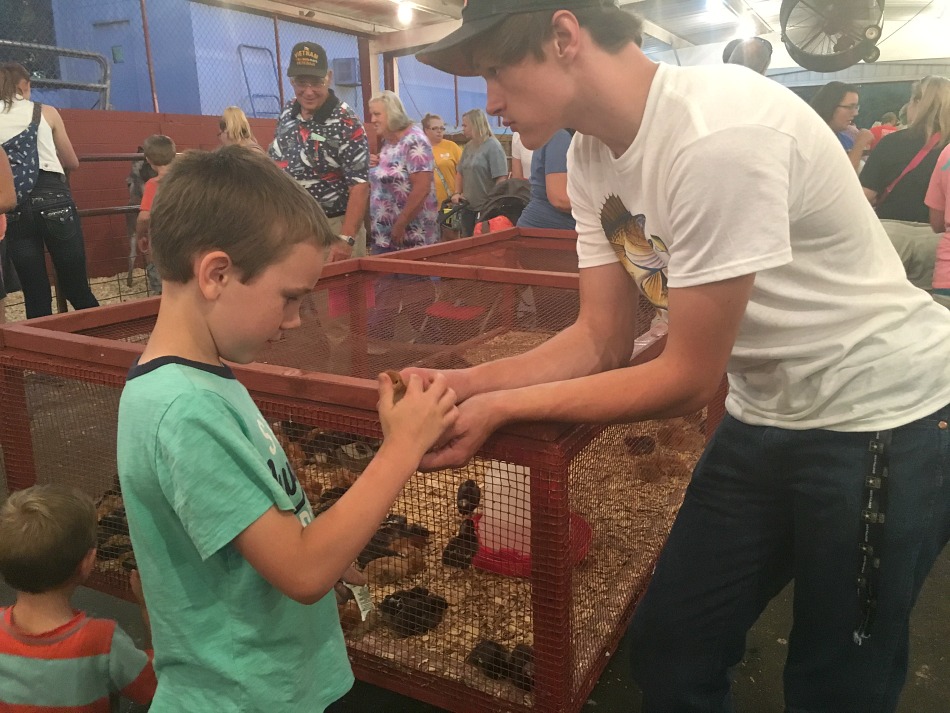 When it gets dark, we meet up with Mom-mom and Pop-pop again, who at this point, has bought each grandchild a fun fair toy. This year the bigger boys got glowing swords that make noises and the babies and the bigger girls all chose little mechanical dogs that barked.
The last thing we do before leaving the fair is to take the kids on the big slide. They love doing this in the dark, and it's the last ride we go on. This year, all the bigger kids went down first, and then the dads took the babies down with them in a race which you can watch in the video below.
And that's it! I hope you enjoyed getting this glimpse into a day in our lives. I love showing you all how we do things in our family, and as always, ife on the mountain (and in a big family) is never boring!
Do you have a local fair that you like to attend? What's your favorite thing to do at the fair? Share with me in the comments below!