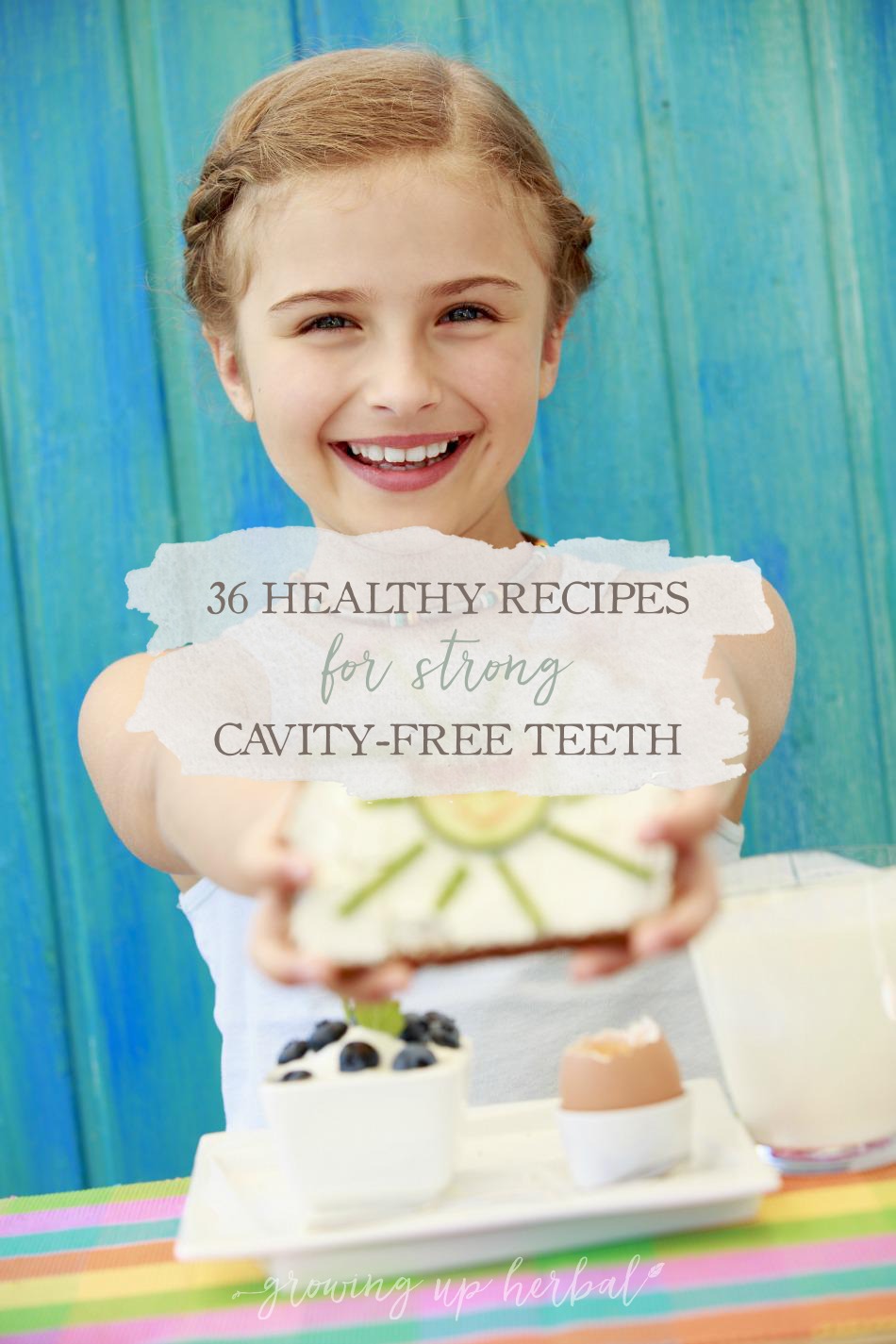 From the amount of research that's been done, it's become increasingly apparent that fluoride is a toxin and harmful for our teeth and bodies. As mama's who care for our children, we can speak up and tell our dentist no to fluoride for our kids. There are healthier alternatives to your children having strong, cavity-free teeth without using neurotoxins. There are even natural solutions to turn to when little ones do develop a childhood cavity.
But what about the everyday stuff? How do we nourish our children's bodies and keep their enamel healthy and decay free through our everyday choices? It all starts with the food we eat.
How Cavities Start
We've been taught that certain foods, like sugar and other acids erode enamel, creating a haven for bacteria to invade and causing cavities. But the issue is actually much deeper than that.
"Daily the calcium and phosphate of the enamel migrates out of the teeth to the bones, heart, brain and other places where it is needed. This is called by dentists demineralization." (source)
Unless we are providing the body with the minerals it needs to function properly, the minerals in our teeth will continue to leech out. Our bodies don't just need calcium though, they require water soluble and fat soluble vitamins and minerals.
Primitive people's diets contained ten times more fat soluble vitamins than our average diet today. There was also little to no tooth decay. If you look at pictures of indigenous tribes in Africa today, their smiles are straight and very white, without modern dentistry.
So what should we be feeding our children to promote strong, cavity-free teeth?
Foods To Eat
These foods and nutrients should be incorporated into children's every day meals. It's also really important for pregnant and nursing mothers for the proper development of the baby they're nurturing.
Fat soluble vitamins A, D, K and K2. These are found in grassfed dairy, aged cheeses, pastured butter, high vitamin butter oil and pastured meats. And yes, vitamin K and vitamin K2 really are two different nutrients.
Include regular protein throughout the day to help balance blood sugar. Dentist Dr. Melvin Page found that the incidence of tooth decay would increase when blood sugar levels raised above the 80-90 range. (source)
Increase mineral intake from seafood products, bone broth high in gelatin, raw and cultured dairy products like yogurt and milk kefir.
Fermented foods and probiotics are also a must have.
Fermented cod liver oil, high vitamin butter and coconut oil provide necessary fat soluble nutrients.
Vegetables contain vitamins necessary for strong enamel, so a wide variety should be included.
Get an additional 10% off your Perfect Supplements order with coupon code GROWINGUP10.
Save 10% off Kombucha Kamp milk kefir grains with discount code GUH10.
Foods To Stay Away From
There's a huge list of unacceptable foods listed in the Cure Tooth Decay book. Unless your child already has decay though, you can most likely get by on a real food diet. The Weston A. Price Foundation's guidelines are a good place to start. Diets low in sugar, especially processed sugar, and high in fat soluble and water soluble minerals will prevent tooth decay in most cases. Some of the foods that can cause cavities include:
Refined flour and other grains, unless properly prepared
Refined and processed sugar
Prepackaged and fast food
Coffee, soda and sweeteners
Soymilk and tofu
Pasteurized milk products, even organic
Hydrogenated Oils – like margarine and low quality vegetable oils
Non-grass-fed meat and eggs, and farm raised fish
What About Cavities?
If your child already has weakened enamel, decay and cavities, then additional measures should be taken. The Cure Tooth Decay book is such a wealth of information on the subject, so at that point it would be best to get the book and follow its protocol.
36 Healthy Recipes For Strong, Cavity-Free Teeth
Main Dishes
Side dishes
Broth and Soup
Sweet Treats
Beverages
My son doesn't have a perfect diet, but we do try to include strengthening and nourishing foods as often as possible. So far he hasn't had any cavities, and I'm hoping that with diligence, it will stay that way.
Have you had luck caring for your child's teeth naturally using nutrition and natural supplements? If so, share your stories in the comment section below!
REFERENCES: