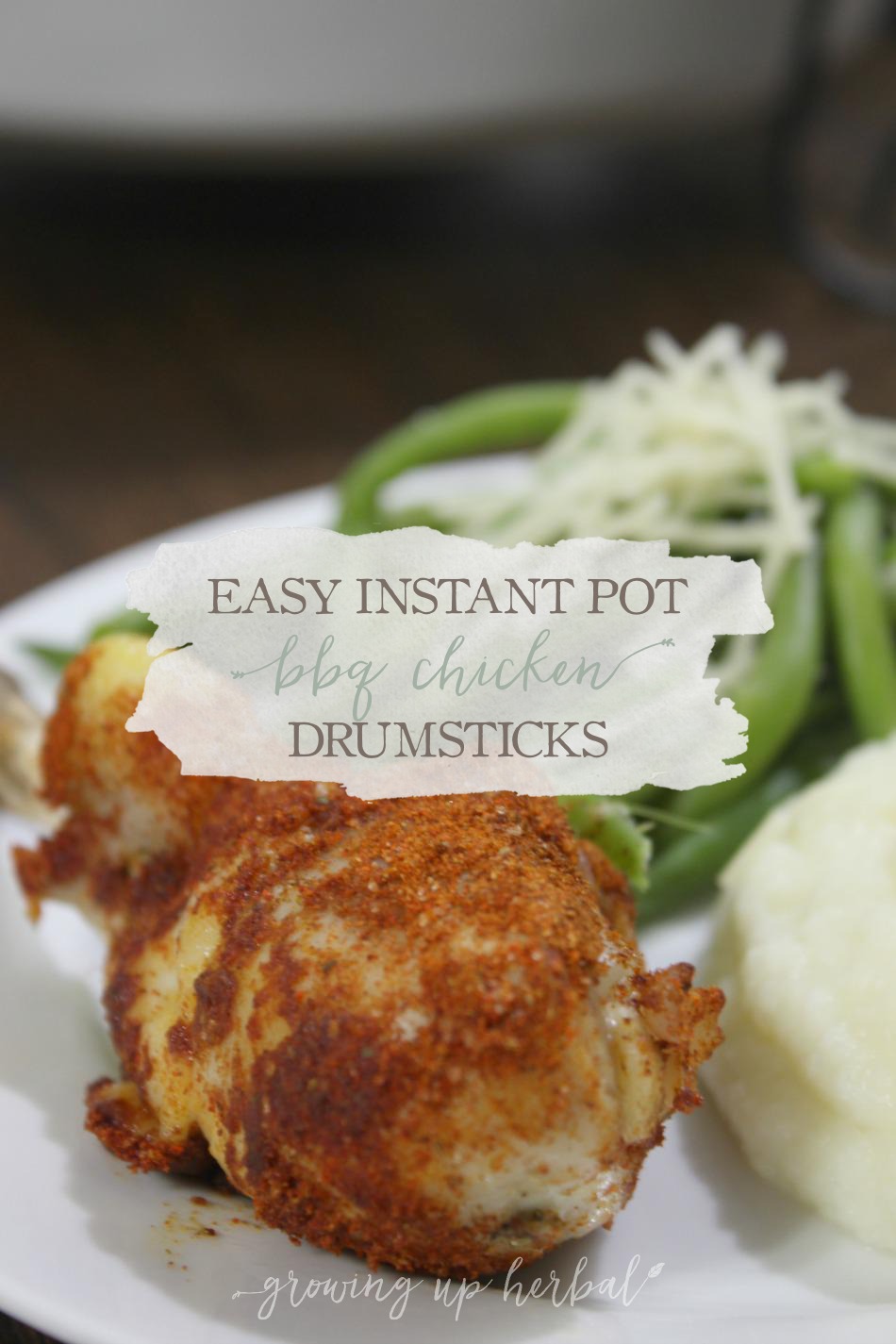 My family eats a lot of chicken, but when I think about it, I can't remember the last time we've had drumsticks or even a whole roasted chicken! I guess we normally use shredded chicken or chicken breasts.
However, this week, I made Instant Pot BBQ chicken drumsticks for dinner, and they were a HUGE hit… both with the kids and my husband. Not only was our entire dinner finished in 30 minutes, start to finish, but clean up was easy too because there were no leftovers! No joke! Two pounds of chicken drumsticks… devoured.
Talk about one happy mama! I love when I cook meals and there are no complaints. I love knowing that my kids are happy and enjoying their food. I love it when dinner is quick, and I've not had to compromise the quality of our food to make it happen.
Seeing how positively my family responded to this recipe, I just knew I had to share it with you and tell you where you can find more like it.
If you, like me, are interested in quick, healthy dinners, in making foods that actually get eaten, and in kitchen gadgets that do more than one thing then listen up. Today, I'm sharing my recipe for Instant Pot BBQ Chicken Drumsticks that are kid-friendly (and hubby approved)!
Easy Paleo Instant Pot Recipes by Dr. Karen S. Lee
I came across Dr. Karen Lee's cookbook – Easy Paleo Instant Pot Recipes, and I immediately knew I needed this book! It was full of healthy recipes and they were all designed for the Instant Pot… my brand new timesaver!
You see, I had recently bought an Instant Pot on Amazon Prime Day (get a 30-day free trial here)
, and I wanted to learn how to better use it.
Up until this point, I've mostly been piddling around with it, trying to learn how to cook some food staples like whole chickens, chicken stock, dried beans from scratch, and perfect rice, but I want to learn how to use it to make more quick fix meals without sacrificing health or flavor.
If you have an Instant Pot and you'd like to learn how to make easy, delicious meals for your family, I highly recommend this cookbook!
As I was browsing through the recipes in Dr. Karen's cookbook, I spotted the one for Instant Pot BBQ Chicken Drumsticks and knew it should be the first one to try. I added it to my weekly meal plan along with cauliflower mashed potatoes and parmesan green beans for sides.
Instant Pot BBQ Chicken Drumsticks
There's nothing worse than salivating over a delicious looking chicken leg only to find the meat all dried out when you bite into it! Yuck! Thankfully, that won't happen when you cook chicken correctly in the Instant Pot (psst… use the natural pressure release). Your drumsticks will come out juicy and moist… just the way a drumstick should be. Meat falling off the bone, baby!
Beyond being juicy and moist, these Instant Pot BBQ Chicken Drumsticks taste amazing! The spice rub coats the outside of the drumstick so you get intense flavor with every bite! It's so good, y'all!
When the time came to make this recipe, I adapted it a bit because the original recipe called for some hot spices. I LOVE spicy foods, but my kids do not. Thankfully, adapting this recipe was no problem at all. I simply skipped the black pepper and cayenne in the BBQ rub. Even without the hot spices, it turned out delicious and no one complained at all! And, to add the spice back to my chicken, I simply sprinkled black pepper and cayenne on my drumsticks. Easy-peasy!
Another great thing about this recipe is that it pairs nicely with a lot of different side dishes. Like I said earlier, we had cauliflower mashed potatoes and parmesan green beans with it. They cooked away on the stove in my waterless cookware pots while the Instant Pot did its thing on the counter.
Okay, enough talking about how great and easy this recipe is. Here's the recipe so you can see for yourself!
[yumprint-recipe id='52']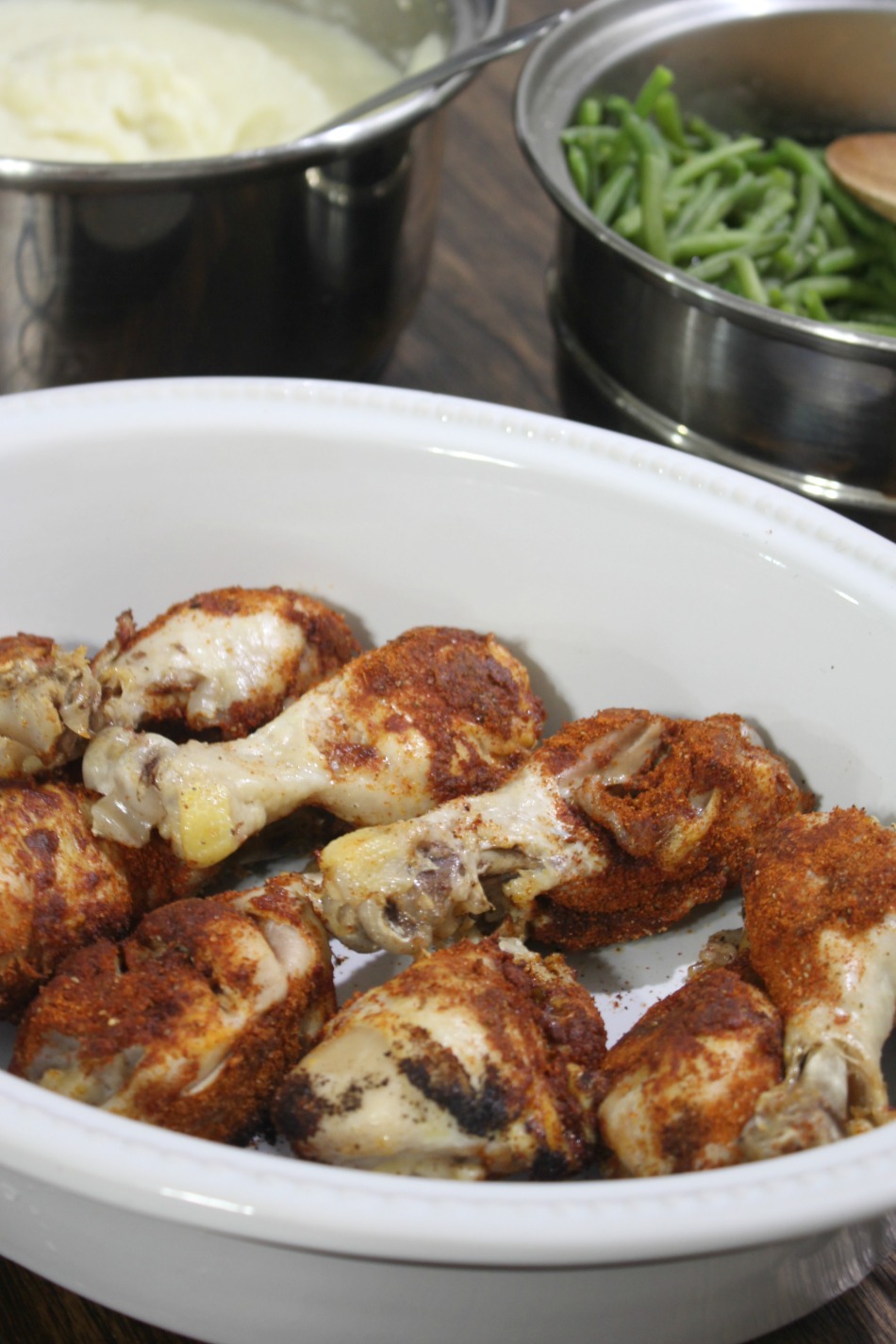 Thanks go out to Dr. Karen for giving me permission to share this delicious recipe with you today!
If you too are looking for healthy, delicious meals to cook for your family, be sure you check out Dr. Karen's new cookbook – Easy Paleo Instant Pot Recipes for 40+ recipes, from breakfast to dessert, that can be made quickly, start-to-finish, in your Instant Pot!