Kids. They get cuts, scrapes, and scratches. Most of the time these little "boo-boos" are no big deal, but if your kids are anything like mine, a little herbal salve and a fun bandaid can make anything all better.
Now, not all salves are created equal. Salves can serve different purposes depending upon the herbs used in them. When it comes to these little boo-boos my kids get, I always use our homemade herbal "neosporin" salve. This salve is full of herbs known for their antibacterial properties, and it makes a great fix for these little "major" events that kids can experience from time to time. Today I'd like to show you how you can make it yourself!
Homemade Herbal "Neosporin" Coconut Oil Salve
The first step in making any salve with herbs is to infuse the herbs into your choice of oil. For this salve I've used coconut oil because it has its own antiseptic properties already.
The herbs I've chosen are fresh garlic cloves, dried olive leaf, dried plantain leaf, and dried chamomile flowers. Garlic and olive leaf are great antibacterials, plantain is an astringent herb which means it tightens tissues, and chamomile is very soothing with its anti-inflammatory properties. All of these things are beneficial for minor cuts, scraps, and bug bites.
Follow the steps below to infuse your herbs into your oil.
Place desired amount of herbs into a glass jar no more than 1/3 of the way full. You can use equal parts of herbs or vary them. I used 1 TBSP of each herb.

Pour melted coconut oil over herbs until oil is 1 inch from the top of your jar. Place lid on jar and shake well to mix herbs and oil together.
Now that your herbs and oil are together, they will begin to infuse. You can place your jar in a cabinet to sit for 2-4 weeks, giving it a good shake each day, or you can take the quick route like I do and use your crockpot. Here's how to do that.
Place a cloth in the bottom of your crockpot and place your jar on top of it. This is a must. If you skip the cloth your jar will get too hot and break.
Add water to crockpot, filling it up to 1 inch from the top of the jar and turn crockpot on low.
Allow the water to heat up. The heat helps the oil to penetrate the herbs which helps to draw the properties out of the herbs and into your oil. Be sure to give your oil a good shake 1-2 times a day.
After 3 days, you're oil is finished infusing. It should now look like a brownish-green color instead of clear.
At this point, you need to strain the herbs out of your oil.
Gather a fine stainless steel sieve and some thin fabric like unbleached cotton or an old clean t-shirt. Lay your sieve over a clean saucepan and place the fabric over the sieve.
Pour your warm oil into the fabric slowly. The oil will leak through the cloth leaving your herbs behind. Gather up your fabric into a pouch and squeeze the herbs really tight to get as much of the oil out.
You can also use a paper towel to strain your herbs into a measuring cup with like I did. Just make sure you have a sieve under it because your paper towel will break.
Once your oil is strained, you're half way there. The rest is super easy. At this point you're going to turn your herbal infused oil into a salve.
First prepare a double boiler. This doesn't have to be anything fancy… it can be as simple as a pan of boiling water and your measuring cup hung over the side using it's handle. All that matters is that your beeswax melts into your oil without the oil boiling.
Next add in your beeswax. You'll need 1 oz. of beeswax for every cup of herbal oil you have. Most times, unless I'm making large batches, I just guesstimate. I add in some of my beeswax pastilles, let them melt, and then check it for hardness which brings us to the next step.
To check your salve for hardness, take a spoon and dip it into your beeswax/oil mixture then let a few drops fall on the counter next to you. Give it 3-5 minute to cool and then touch it with your finger to see how hard it is. If it's too soft, add a bit more beeswax and try again. If it's too hard, add in a bit more coconut oil to your herbal oil and check it again to see if that helped. Everyone has their own preference when it comes to salves. Some like them easy to get out while other people like them hard so they aren't runny when they get warm. The choice is yours.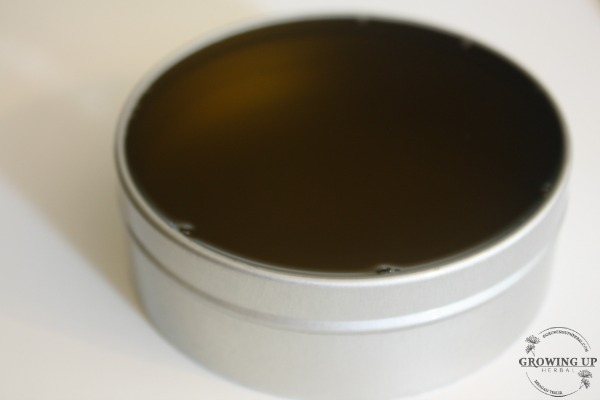 Lastly, after you've got your oil to beeswax measurements correct, pour your salve up into a glass jar or tin and let it sit for several hours to harden before you label and store it.
And there you have it. A "neosporin" coconut oil salve that you made yourself for 1/3 of the price you could have bought it for!
Let me just say that a salve is to be used for minor cuts and scraps only and is not meant to be used on deep wounds. This is because the wax in the salve can seal off the wound decreasing the amount of oxygen that can get into the wound. This can lead to bacteria growing inside the wound under the surface of the salve. Deeper wounds need to be treated differently.
What do you do when your kids get cuts, scrapes, and bug bites? Do you have a "neosporin" type natural remedy that you use? Share your thoughts and experiences with me in the comments below! I love hearing from you!
Post Mistakes
It's come to my attention by a concerned reader that I've made two mistakes in this post.
First of all, I failed to use correct grammar at one point in this post. I used "you're" when I should have used "your". My apologies. I'm busy… sometimes things slip through the cracks… I did not major in English… I make lots of grammar errors… and I use these three little dots way too often than I should… but I really like them… and I really like exclamation points too!!!
My second mistake was that I've used "poor judgement" by calling this an herbal "neosporin" coconut oil salve… implying that this "simple salve" is compared to the OTC Neosporin ointment you can buy in most stores. My poor judgement is due to the fact that Neosporin contains the antibiotic Neomycin (correct spelling) in order to give it its antibacterial properties and my salve does not contain this drug, therefore I shouldn't have used the term "neosporin". Okay, well… to each his own. The reason I used the term "neosporin" is because parents typically use that product to prevent simple cuts and scrapes from becoming infected, and this is my herbal version of it… without the actual antibiotic drug.
As always, I appreciate the concern of my readers, and I recognize my own short-comings much of the time. I'll be sure to add these little "Post Mistakes" to the end of posts when readers bring up their concerns to me… because I wouldn't want anyone to get the wrong idea on important issues like these above.