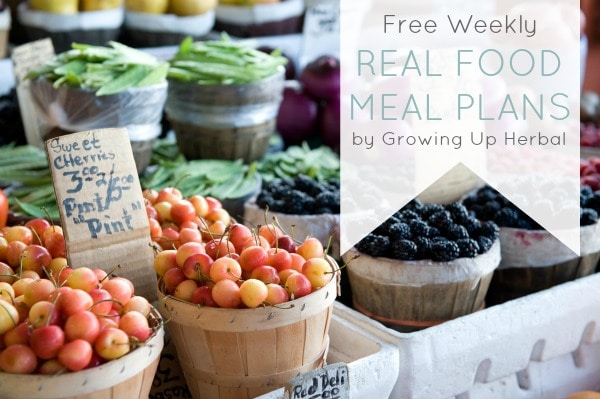 I'm a busy mama of 3 (almost 4) little boys so I try to find meals that are healthy, not too time consuming, use minimal ingredients that are common, and are delicious so my sometimes picky kids will eat them.
These meal plans are traditional whole food style plans meaning they are not vegetarian, gluten-free, or dairy-free in general although you will find some of those types of recipes here and there. You will find 7 breakfasts, 7 lunches, 6 dinners (one night out), and 2 snacks each week as well as links to the recipes I personally use from around the web!
My hope is that these free meal plans will help you if you're new to meal planning or new to eating real foods. I hope they help you see how someone else is doing it as well as help you to save time and feel good about what you're making your family. Now don't forget, I'm not perfect. I'm still learning, but hopefully through it all, we can learn and grow together and hold each other accountable. Also keep in mind that there are times where I'll substitute ingredients found in these recipes. If that is the case, I'll try to let you know.
If you wanna learn more about my views on nutrition, real foods, and meal planning, be sure to sign up to my Letters To Natural Mamas. I share a lot of my real food story as well as how I do things there. If you wanna view all my free weekly real food meal plans, they'll all be right here, and if you wanna pin the following recipes easily, just visit my Real Food Pinterest boards right here!
Enjoy!!
Sunday
Breakfast: Banana, Oatmeal, Nut Butter Smoothie
Lunch: Taco Salad, fruit
Dinner: Hardy Lentil Soup
Monday
Breakfast: Homemade Soaked Cream of Wheat
Lunch: Whole Grain Waffle Sandwiches – add cream cheese, cinnamon, honey, and raisins
Dinner: Chicken Alfredo, Steamed Broccoli with pine nuts
Tuesday
Breakfast: Scrambled Eggs, Toast, Homemade Yogurt
Lunch: Nut Butter & Banana Wraps
Dinner: Deer Roast with carrots and potatoes, Soaked Cornbread
Wednesday
Breakfast: Soaked Oatmeal
Lunch: Egg Salad Sandwiches, cheese & crackers, fruit
Dinner: Chicken Fried Rice
Thursday
Breakfast: Sweet Potato Oatmeal Muffins – sub. olive oil & heavy cream
Lunch: Tuna BBQ
Dinner: (out to eat at Earthfare, grocery shopping)
Friday
Breakfast: No-Grain Breakfast Crumble with yogurt
Lunch: Burritos
Dinner: Baked chicken, Kale & Potatoes, Mashed Cauliflower
Saturday
Breakfast: Banana Flax Muffins – leave out protein powder
Lunch: Homemade Chicken Nuggets – sub. honey & ghee/coconut oil, Sweet Potato Fries
Dinner: Orzo & Zucchini
Snacks
No Bake Chocolate Chip Granola Bars – sub. organic rice puffs for rice crispies